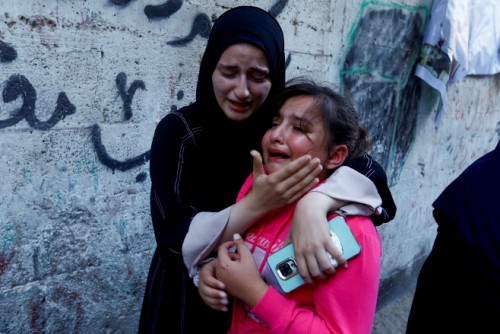 The daughter of Zakaria Abu Maamar, a member of Hamas' political office, cries during her father's funeral, after he was killed in an air strike, in Khan Younis, in southern Gaza Strip, on Oct. 10, 2023. /Source: Reuters-Yonhap News
Washington correspondent Ha Man-joo
The Israel-Hamas war, which began with a surprise attack by Palestinian militant group Hamas, has expanded to Gaza, causing huge casualties.
More than 1,600 people have been killed three days after Hamas' surprise attacks, with more than 6,000 people injured in Israel and Gaza, according to local media reports citing Israeli and Palestinian authorities on Tuesday.
It is reported that 11 Americans and citizens of Italy and Ukraine were among the dead identified. U.S. President Joe Biden said in a statement that at least 11 Americans had been killed in Hamas' surprise attacks. Biden and his officials described the attacks as terrorist attacks.
The increase in the number of casualties was due to Israeli military retaliation against Gaza, the home of Hamas. Israeli troops reportedly retook control of towns near the Gaza Strip. Israel has amassed 100,000 troops plus tanks and armored personnel carriers near the border, and called up more than 300,000 reservists. The Israeli military said in a briefing that it has restored full control over Gaza border and largely regained control of the southern region.
Ahead of the retaliatory attack on Gaza, Israeli Prime Minister Benjamin Netanyahu said the battle to remove Hamas militants in Israeli territory was continuing. "Hamas is ISIS. We will defeat Hamas precisely as the enlightened world defeated ISIS," he said.
Meanwhile, volatility in the global economy is increasing, with international oil prices fluctuating due to the intensifying armed conflict between Israel and Palestine. West Texas Intermediate (WTI), which rose to $86.08 a barrel the previous day, settled down to $85.87 as of 12:37 p.m. on Tuesday.
However, some analysts say that oil prices may reach $100 a barrel if the armed conflict is prolonged or other Middle Eastern oil-producing countries such as Iran and Saudi Arabia intervene in the conflict.