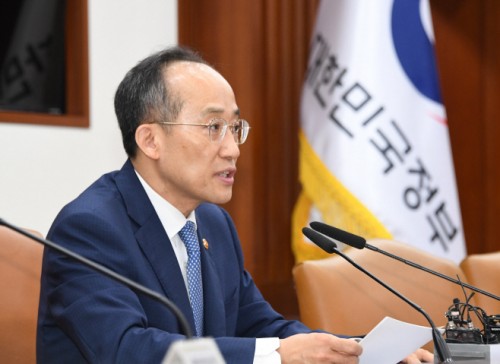 Deputy Prime Minister and Minister of Strategy and Finance Choo Kyung-ho speaks at the Emergency Economic Ministers' Meeting and Export Investment Countermeasures Meeting held at the Seoul Government Complex on Sept. 18, 2023. / Source: The Ministry of Strategy and Finance
AsiaToday reporter Lee Ji-hoon
The government plans to invest 2.2 trillion won (US$1.65 billion) over the next five years to establish advanced industrial and medical complexes as well as special R&D zones. In order to revitalize the venture ecosystem centered on the private sector, the government has decided to raise the ratio of external investment in corporate venture capital (CVC) held by general holding companies to 50 percent from the current 40 percent.
Deputy Prime Minister and Finance Minister Choo Kyung-ho announced the follow-up measures to foster global clusters in high-tech industries at the meeting with economy-related ministers on Monday.
At the meeting, the deputy prime minister announced that the country will invest 400 billion won in 2024 and 2.2 trillion won over the next five years for industrial zones specialized in strategic and medical industries.
Specifically, the country will initially allocate 121.3 billion won in 2024 and 543.2 billion won in total over the next five years for the industrial zone specialized in strategic industry, while investing 458.7 billion won in total for high-tech medical complexes, including 119.3 billion won in 2024. Another batch of 1.2 trillion won will be spent on rolling out research and development projects, including 165 billion won in 2024.
To further speed up the establishment of clusters for strategic and advanced industries, the government will seek to skip a feasibility study on the plan to create the world's largest semiconductor cluster in Yongin, south of Seoul. It will also push for new designations of bio-specialized complexes in the first half of next year by accepting applications this year.
The government will allow the installation of small production facilities developed outside the complex before moving into advanced medical complexes, and clinical test centers in the complex will be recognized as medical institutions. The building and floor area ratio of education and research zones in the special R&D zone will be increased from the current 30 percent and 150 percent, respectively, to 40 percent and 200 percent, respectively, and related regulations will be revised next year.
To vitalize the venture ecosystem, the government will ease regulations for CVC. External funding for funds created by CVCs will be raised to 50 percent from 40 percent, and the overseas investment ratio will be increased to 30 percent from 20 percent of total assets. Cash support from foreign-invested companies in new growth, high-tech and parts sectors moving into the industrial clusters will be raised to 200 billion won next year from the current 50 billion won.