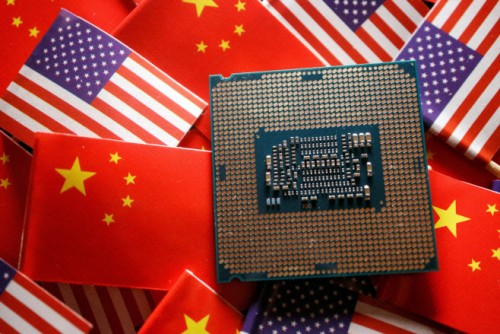 A central processing unit (CPU) semiconductor chip is displayed among flags of China and U.S. / Source: Reuters, Yonhap News
Washington correspondent Ha Man-joo
U.S. President Joe Biden issued an executive order Wednesday to regulate U.S. investments in Chinese entities in three sectors: semiconductors and microelectronics, quantum information technologies and certain artificial intelligence systems.
Accordingly, US firms will be required to notify such investments to the U.S. Treasury Department, which will have the authority to allow and ban. It will be applied not only to Americans in the U.S. but also to Americans around the world.
The order will not only place restrictions on investments by U.S. private equity and venture capital firms, as well as joint ventures, in Chinese companies developing advanced semiconductors and quantum computers, but also require American businesses in China to notify to the U.S. government if they directly invest in AI and other types of chips, the Wall Street Journal (WSJ) reported.
"Investment in China will be completely banned in all areas directly related to security interests with the measures, and notification will be required for other sensitive investments," a senior Biden administration official said in a briefing.
Last October, the Biden administration restricted exports of advanced semiconductors and chip manufacturing equipment to China and banned Chinese investment in U.S. technology companies. This time, it is believed to have expanded and strengthened the measure.
The WSJ explained that the rule strictly applies to investments in firms from "countries of concern", but the Biden administration has confirmed that only China, Hong Kong, and Macau meet the criteria.