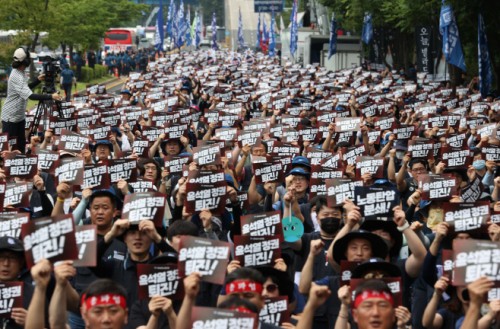 Members of the Korean Metal Workers' Union under the Korean Confederation of Trade Unions hold a rally near Ichon Station in Seoul on July 12, 2023, urging President Yoon Suk-yeol to step down./ Source: Yonhap
AsiaToday reporters Choi Won-young, Kang Tae-yoon, and Lee Sun-young
The production line of South Korea's automotive and shipbuilding industries, the most labor-intensive industries in the country, has stopped for a day. Unionized workers at Hyundai Motor and HD Hyundai Heavy Industries participated in a two-week general strike initiated by the Korean Metal Workers' Union. Their participation has raised concerns over potential damage to the country's exports and economic losses amid boom in global orders.
The strike is part of the ongoing nationwide strike organized by the Korean Confederation of Trade Unions (KCTU) calling for President Yoon Suk-yeol to step down. It has not gone through the strike action procedure, stirring up controversy over whether it is a political strike.
Nearly 40,000 labor union members of Hyundai Motor participated in Wednesday's strike. It is the first full-scale strike in five years since 2018. It is expected to cause a setback in the production of around 2,000 vehicles. Hyundai Motor's Ulsan factory Unit 1 and 3 decided to suspend production on Wednesday afternoon as the supply of chassis was blocked with its component supplier Motras also staging a strike on the same day.
"Hyundai Motor union's participation in the illegal political strike will make the company lose its opportunity to take leap forward in the global market by increasing its investments in future vehicles," the Korea Automobile & Mobility Association said in a recent statement. Industry observers are concerned about potential economic loss in the automobile industry due to the general strike participated by group affiliates as well as component suppliers.
HD Hyundai Heavy Industries, the world's No. 1 shipbuilder, is unable to build a ship due to lack of manpower despite growing orders. Its unionized workers staged a three-hour strike to join the general strike of the metal union. The amount of loss has not been calculated, but the first strike of this year is expected to have a negative impact on the company.
The industry is concerned that the strike would continue systematically and for a long time. Hyundai Motor's labor union is negotiating over the extension of retirement and massive wage hike. Hyundai Group's labor union said 96 percent of its members agreed to stage a strike, explaining the reasoning for taking the collective actions. Conflicts between labor and management are expected to be inevitable ahead of summer vacation.
"The KCTU continues to stage a strike at a time when our economy is expected to grow at around 1 percent. The government should deal sternly with illegal political strikes by the KCTU to correct the rule of law at industrial sites and prevent the damage to the economy and the people's livelihood," said Jang Jung-woo, head of the labor-management cooperation division of the Korea Enterprises Federation.