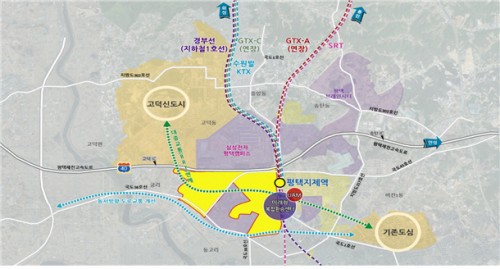 A design guide on wide-area transportation expansion network and mobility linkage in Pyongtaek's Jije Station area./ Source: Ministry of Land, Infrastructure and Transport
AsiaToday reporter Chun Lee Wook-jae
New public housing sites for 39,000 households will be built in two locations nationwide, including Pyeongtaek, Gyeonggi Province, and Jinju, South Gyeongsang Province. These housing sites are expected to be cities behind high-tech industrial complexes for semiconductors and space industries.
The Ministry of Land, Infrastructure and Transport announced Thursday that it will designate the Jije Station area in Pyongtaek and Munsan area in Jinju as public housing districts to create a "compact city" with a total of 39,000 households. It is the second new housing site announcement by the Yoon Suk-yeol administration following the Gimpo Hangang 2 Compact City, which will be built for 46,000 households, announced back in November. The government plans to supply 880,000 households over the next five years by creating new housing sites under the August 16 measure.
The Pyongtaek Jije Station area will be developed on 4.53 million square meters in Jije, Sindae, Segyo, Mogok-dong, and Godeok-myeon in Pyeongtaek. It is about 1.56 times the area of Yeouido, Seoul, and a total of 33,000 home units will be supplied. The land ministry expects it to serve as a residential city for the "semiconductor mega cluster" that runs from Pyeongtaek to Hwanseong to Yongin in Gyeonggi Province.
To this end, the government plans to significantly expand the wide-area transportation network. At Jije Station, where SRT and Line No. 1 (Gyeongbu Line) stop, the Great Train Express (GTX) routes A and C will be extended. It plans to establish a bus rapid transit (BRT) connecting Godeok International New Town in Pyeongtaek and Pyeongtaek City Hall, while expanding roads connecting the old city center (Seopyeongtaek) and the new city center (Dongpyeongtaek).
The Musan District in Jinju will be built on 1.4 million square meters in Munsan-eup, which is adjacent to Jinju Innovative City, to supply 6,000 home units.
The land ministry plans to complete the designation of a new residential area in the first half of next year after consulting with related agencies and listening to residents' opinions. Then it plans to approve the 2026 district plan and provide applications carry out the public housing pre-subscription schedule.
The government has also come up with measures to prevent speculation on these public housing sites. The land ministry investigated all employees of the ministry and the Korea Land and Housing Corporation (LH) to confirm that there were no landowners in the public housing district.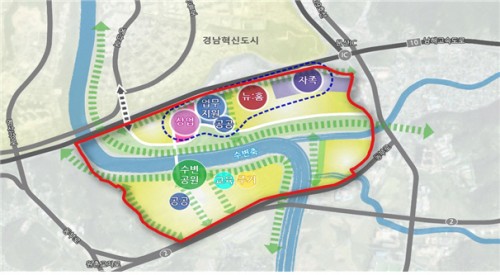 A design guide on Jinju's Munsan district development./ Source: Ministry of Land, Infrastructure and Transport