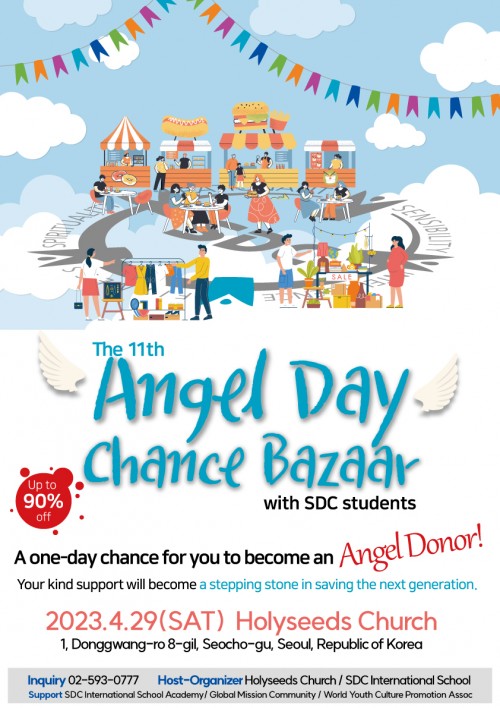 'The 11th Angel Day Chance Bazaar' poster
In order to help young people who cannot study due to financial difficulties, the good youths of Korea have come together for a "tomorrow" where we can be happy together and dream together.
SDC International School Academy (Chairman Dae-Cheon Seo) will hold the '11th Angel Day Chance Bazaar' on the 29th to raise funds for the next generation scholarship project to help young people who are unable to achieve their dreams due to lack of finances.
All proceeds from sales on the day of the event will be donated to the scholarship project fund for youths experiencing financial difficulties. The sales target is 1.5 billion won.
From attracting goods to publicity, sales, and operation, students take part in everything.
For this bazaar, SDC International School formed a total of 16 committees, including the Product Sales Committee, Food Distribution Committee, External Cooperation Committee, Public Relations Committee, Logistics Operation Committee, Traffic Safety Committee, and Media Committee.
In particular, students visit companies to attract products and make presentations in person. On the 19th of last month, Lauren Yehwa Seo, president of the External Cooperation Committee, and Hwang Ji-min, Seong Jun-yong, Park Woo-min, Dong Yun-soo, and Kwon Ji-min visited Goodus Data Co., Ltd. On this day, student Jimin Hwang gave a presentation to attract donations.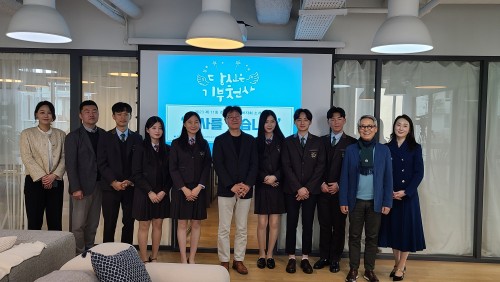 On the 19th of last month, after giving a presentation for attracting goods at 'Goodus Data' Co., Ltd. in Yeoksam-dong, Gangnam-gu, Seoul, students Ji-min Hwang, Jun-yong Seong, Woo-min Park, Yoon-soo Dong, and Ji-min Kwon, along with Lauren Yehwa Seo, president of External Relations Committee of SDC International School (fifth from left), attended the company. Taking commemorative photos with employees. / Photo = SDC International School Academy
Lauren Yehwa Seo, president of External Relations Committee, said, "Since the establishment of the Holy Seeds Church on November 15, 2009, a bazaar has been held to establish a scholarship foundation to ensure that there are no young people who cannot study due to lack of money. The bazaar led to the '11th Angel's Day Bazaar' and has established itself as a valuable event to learn the love of the Lord through donations and sharing. I thank Jesus for allowing the 11th Angel Day Chance Bazaar to start again after 4 years."
Koh Young-in, head of Public Relations Committee, said, "The Angel Day Chance Bazaar has been held by peers to raise scholarship funds for teenagers who are unable to study due to financial difficulties. The goal is to deliver good influence to the region through mass donations from various companies and 'good consumption' by consumers," she emphasized.
On this day, at the bazaar, you can purchase a variety of products on the market at low prices with discounts of up to 90%.
The items sold at the event were all items donated in large quantities from companies and individuals, and were priced significantly lower than the market price.
Women's and men's clothing, such as knitted tees, casual skirts, and shorts suits, as well as sportswear are sold. There are also uncooked foods that can be stored, such as salted fish side dishes and canned food.
Food for the day is also available. You can enjoy shopping while eating puffed-up ice cream, pretzels, coffee, chicken gangjeong, tteokbokki, and vegetable hotteok.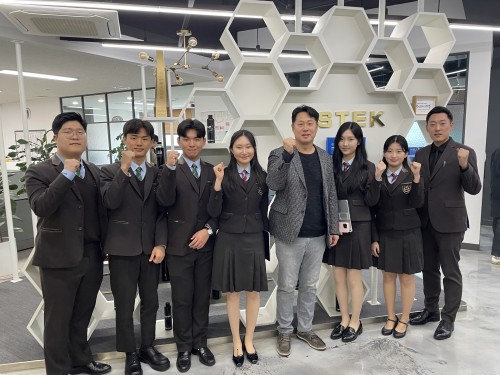 Lauren Yehwa Seo (fourth from the left), presient of the External Cooperation Committee, made a presentation in English about the purpose of the bazaar to attract donations to executives and staff, including CEO Lee Chang-seok (fifth from the left) of Stech Co., Ltd., a global company. Jimin Hwang (third from right) moderated the event, and Jimin Kwon (second from right), Jaehyun Kim (first from left), Junyong Seong (second from left), Yunsu Dong (third from left), and Teacher John Y. Park (first from right) participated. After the presentation, attendees pose for a commemorative photo. / Photo = SDC International School Academy
The donation companies for the 'Angel Day Chance Bazaar' are △Wing House (specialized in children's fashion company, CEO Lee Sang-pil) △Reynolds Korea (kitchen household goods, CEO Oh Hang-seop) △Hanbio (bio company, CEO David Kang) △Able Science Pharma (Global pharmaceutical company CEO Kim Jong-hyun) △The Hue Company (apparel company CEO Chung Chun-woo) △Woongjin Thinkbig (education service CEO Lee Jae-jin) △Derma Cosmetics (cosmetics manufacturing CEO Kim Jin-hwa) △Neo Flam (export specialist) Kitchen utensils/CEO Park Chang-soo) △Hangil Trading (Overseas luxury goods importer/CEO Lee Young-woo) △Modni (Korea's largest luxury dish/CEO Song Young-guk) △Stec (Global company/CEO Chang-seok Lee) △JM Robotics (Artificial Intelligence) Robot Development & Coding / CEO Kim Dong-jin) △Cosplan (cosmetics company CEO Jong-ik Seon) △Hanna J (medical device cosmetics·CEO Hyun-joo Shin) △Slow Food (agricultural social enterprise CEO Kang-sam Lee) participated.
On the other hand, SDC students are actively engaged in external activities such as holding a performance last year at the National Assembly Members' Hall by holding the 'Youth Cultural Festival with Overseas Korean Youth'. In June of last year, in the month of Patriots and Veterans Affairs, they visited the Seoul National Cemetery in Dongjak-gu, Seoul and paid their respects. This February, 'The Great Fire! In commemoration of the 103rd anniversary of the martyrdom of martyr Yu Gwan-soon, the 'Love for Country Concert' was also held with great success.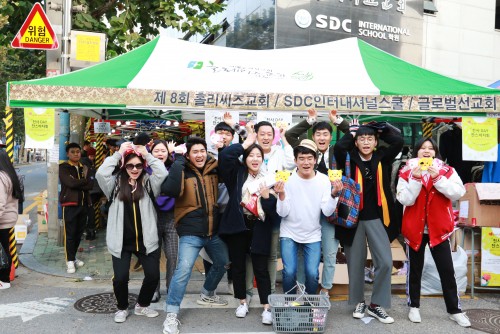 Students who participated in the '8th Angel Jay Chance Bazaar' held in 2017. / Photo = SDC International School Academy