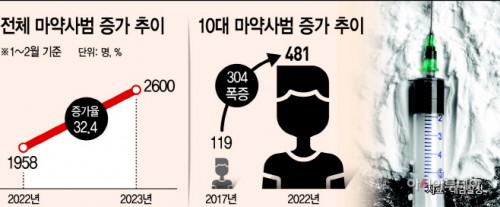 Graphic by AsiaToday
AsiaToday reporter Kim Im-soo
South Korea is no longer a drug safe country. A new type of scam occurred earlier this month at a major hagwon district in Seoul's Gangnam area, where high school students were duped into tasting a drink containing drugs. On Monday morning, a man in his 20s was caught by police after trying to hand drugs to a woman he met for the first time saying it was a medicine used to sober up. Following a series of drug-related crimes, the "pan-government related agencies council" was held to respond to drug-related crimes.
According to the related authorities and legal community, South Korea is reaching tipping point. The United Nations (UN) grants drug-free status to a country with less than 20 drug offenders per 100,000 people. South Korea has already exceeded the figure in 2016.
Drug crimes are already close to the daily lives of ordinary people, and new crimes such as voice phishing are evolving into drug crimes. The country needs to be alert to drugs and come up with fundamental measures to prevent the spread.
According to data from the Supreme Prosecutors' Office, the number of those arrested for drug-related crimes came to 2,600 in January and February this year, up 32.4 percent from the same period last year with 1,958. Illegal drugs confiscated in the same period reached 176.9 kilograms, up 57.4 percent from the previous year with 112.4 kilograms. Concerns are rising since drug offences are rising particularly among teenagers. The number of drug offenders under 19 more than quadrupled to 481 last year from 118 in 2017.
While teenagers, who are usually tech-savvy, find it easy to purchase drugs, investigative authorities reached the limit to respond immediately. In order to crack down online drug sales, they must first request deletion after deliberation by the Korea Communications Standards Commission or virtually wait for voluntary goodwill if the server abroad.
As concerns over drug crimes are rising, the government will form an interagency investigation unit that includes 840 prosecution, police and customs investigators as well as officials from the education and drug safety ministries and the Seoul city government to fight increasing drug crimes.
"Drugs are spreading to all ages and classes, including housewives, government officials, and students," said Shin Bong-soo, head of the anti-corruption and force department at the Supreme Prosecutors' Office, who co-head the special investigation unit. "If we do not respond in a timely manner at this point, we will never be able to return to the past," he said.
Many point out that strong punishment should come first due to the nature of drug crimes that are generally hard to escape from the secondary crimes and that spread fast. According to the Supreme Court's Judicial Yearbook, the rate of imprisonment of drug offenders decreased to 48.1 percent last year from 53.7 percent in 2020, and the rate of probation increased to 39.8 percent last year from 36.3 percent in 2020. Critics point out that the court is not reflecting the recent rapid spread of drug crimes in sentencing.