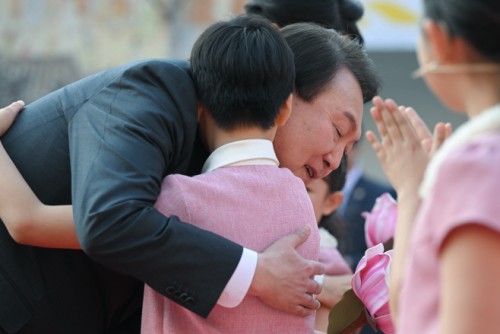 President Yoon Suk-yeol hugs a child during the 100th anniversary ceremony of Seomun Market in Daegu on March 1, 2023./ Source: Presidential office
AsiaToday reporter Lee Wook-jae
President Yoon Suk-yeol has embarked on a high-intensity drive to overcome the economic recession at home and abroad, such as boosting domestic consumption and establishing a strategy to produce results at the upcoming Korea-US summit. Yoon visited major regional events over the weekend to encourage domestic consumption while seeking ways that lead to US concessions in implementing the Inflation Reduction Act (IRA) and the Chips and Science Act at the Korea-US summit set for on April 26. His moves are part of effort to create momentum for a reversal of the market amid the global economic slowdown.
According to the presidential office on Sunday, Yoon and first lady Kim Keon-hee attended a ceremony to mark Fishermen's Day at the port of Tongyeong on Friday, taking a 2-day trip to improve the people's livelihoods. This move is in line with his recent policy of 'revitalizing domestic demand'. Then Yoon and his wife moved to Suncheon to attend the opening ceremony of the Suncheonman International Garden Expo 2023. It is rare for the president to visit a local event to encourage domestic consumption and to complete the schedule of crossing the east and west regions of Yeongnam and Homan.
On Saturday, Yoon attended a baseball game at Daegu Samsung Lions Park in Daegu and threw out the ceremonial first pitch to mark the start of the new season. The president repeatedly stressed the 'normalization of domestic economy', saying, "The hard-working people should live well. We will boost domestic tourism to revive the local economy."
In the meanwhile, Yoon is making an all-out effort to achieve meaningful results at the Korea-US summit scheduled for April 26. His recent personnel reshuffle in diplomatic and security sectors in the presidential office indicates his intention to set up elaborate strategies.
Above all, Yoon's state visit to the United States is recognized as an important diplomatic event that can bring momentum to state administration. The upcoming event, which is being held to mark the 70th anniversary of the ROK-US alliance, is expected to enhance Korea-US security cooperation as well as laying the groundwork for cooperation in new industries between the two countries.
On March 31, the U.S. Treasury Department released proposed guidance on the new clean vehicle provisions of the Inflation Reduction Act, which reflects many opinions of the Korean firms, raising expectations ahead of the state visit. The South Korean government and industry believe that much of the uncertainties have been resolved with the announcement.