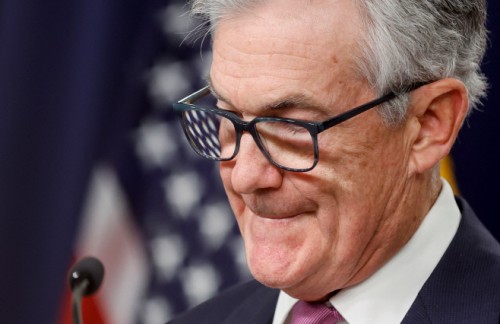 Federal Reserve Chair Jerome Powell speaks during a press conference in Washington D.C. on February 1. Earlier in the day, the Fed raised its key interest rate by 0.25 percentage points, indicating that it returned to the usual increase leaving behind its high-intensity interest hike policy since March last year./ Source: Reuters=Yonhap News
AsiaToday reporter Lee Jang-won
The Federal Reserve announced Wednesday that it had raised its key interest rate by 0.25 percentage points, returning to the "baby step" for the first time in a year. Market watchers say the end of the rate hike tunnel is coming.
As Fed Chairman Jerome Powell said the U.S. central bank could conduct a few more rate hikes, stock markets rose and the dollar fell. He said he would maintain a tightening stance, but talked of 'disinflation' for the first time, leaving room for future monetary policy decisions.
The Fed announced that it would raise its key interest rate to 4.5%-4.75% after this year's first regular meeting of the Open Market Committee (FOMC). Participants in the FOMC projected in December that they would have to raise the rate to the 5%-5.25% range-equal to two additional 0.25 percentage point rate hikes after Wednesday's.
Market watchers said Powell's remarks were not more hawkish than expected, raising expectations that the rate hike could end with a single increase. The S&P 500 reached its intraday high, up 1.8 percent, due to Powell's press conference. Bloomberg reported that market investors paid attention to his remarks that he was seeing clear evidence of slowing consumer price increases. "The disinflationary process has started," Powell said.
The Wall Street Journal (WSJ) pointed out that the Fed is maintaining its tightening monetary policy but investors do not believe it. Currently, the Fed is expected to raise interest rates in March and May, but some predict that interest rates could be maintained at the end of the March hike and then converted to a cut in the second half of the year. According to the Chicago Mercantile Exchange (CME) FedWatch, the probability of the Fed raising the federal funds rate (FFR) futures market by 0.25 percentage points in March stand at 85.6 percent, but the probability of maintaining the interest rate was higher after May and the outlook for a cut was higher after September.
For now, Powell drew a line on the prospect of a cut within the year, saying, "Ongoing increases to interest rates will be appropriate. I don't think I'll lower the base rate within this year."