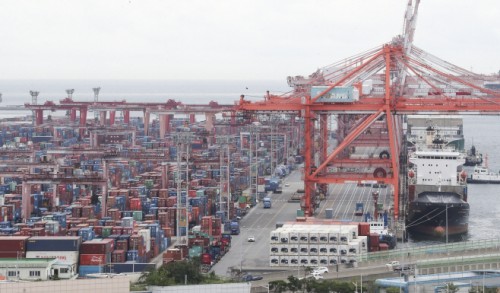 Sinseondae Pier in Busan, the largest port in South Korea/ Source: Yonhap
AsiaToday reporters Choi Won-young & Park Jin-sook
Exports by South Korea fell 16.6 percent in January from a year earlier, casting dark shadows on the export front.
The country posted a monthly trade deficit of $12.7 billion, the worst since data were compiled in 1956. As exports for chips have halved, it has been in the red for 11 straight months.
Samsung Electronics and SK Hynix, which have been supporting the country's economy, hinted at a trillion won deficit in the first quarter, the entire Korean economy seems to be falling into a shock.
January exports fell 16.6 percent on-year to $46.27 billion while imports fell 2.6 percent on-year to $58.96 billion, according to the data compiled by the Ministry of Trade, Industry and Energy.
As exports declined, the trade deficit widened to a record high of $12.7 billion. It is the first time since 1997 that the country has suffered a trade deficit for 11 consecutive months.
Exports of automobiles and ships did well. However, exports of chips, which account for nearly 20 percent of the total export, fell 45 percent. This is due to a 47 percent drop in DRAM price in a year due to oversupply. Since the second half of the year, chip exports have been on the decline. Even system semiconductors, which have shown a steady increase in exports, saw their exports fall back in January.
SK Hynix said Wednesday it recorded an operating loss of 1.7 trillion won during the fourth quarter last year, its first operating loss in 10 years. Industry observers say that the flagship memory semiconductors of Samsung Electronics, which unveiled Tuesday an operating profits of 270 billion won in a whopping 97 percent decline, will have a large deficit. The deficit in the first quarter of this year is expected to grow further.
Samsung and SK are determined to break through the crisis head-on, saying they will turn it into an opportunity. Samsung Electronics has decided to push ahead with its facility investment without cutting production. SK Hynix also expressed its determination to reduce its facility investment to half the level of previous years, but not spare any investment in technology. Market watchers cautiously predict that the semiconductor market would bottom out in the first half of the year, and demand would grow in the second half, resolving inventory and oversupply issues.