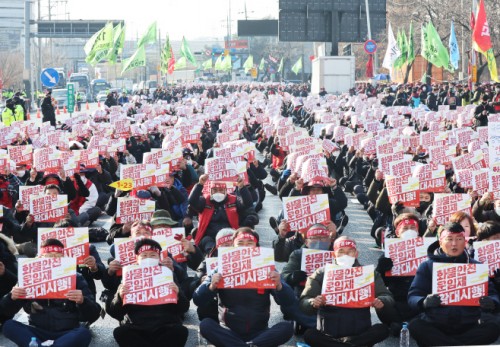 Unionized workers shout slogans during a rally held at an inland container depot in Uiwang, Gyeonggi Province, on December 6, 2022./ Source: Yonhap
AsiaToday reporter Jeong Min-hoon
The Korean Confederation of Trade Unions (KCTU) held a nationwide simultaneous general strike on Tuesday in support of the ongoing strike by unionized truck drivers. However, its general strikes are losing steam as some members of the cargo union returned to work following the government's executive order forcing striking workers in the cement industry to return to work.
According to AsiaToday reports on Tuesday, members of the KCTU launched the rallies at 15 locations nationwide, including an inland container depot in Uiwang, a major logistics hub for the greater Seoul area, and criticized the government for intensifying its pressure.
KCTU chief Yang Kyung-soo criticized the government, saying, "Attacking the KCTU by saying it will take strict measures against illegal activities is a result of a shallow view on labor that regards the union itself as illegal." The KCTU announced that it would continue to fight the government's response with stronger solidarity by holding a protest meeting with the KCTU service federation, where the delivery union and others belong.
However, the number of participants in the Uiwang protest on Tuesday came to 5,300, down to 42 percent of the first day of the rally, and the impact was not as great as expected. In addition, some major members of the confederation, including unions of Daewoo Shipbuilding & Marine Engineering and Hyundai Heavy Industries Group, did not join the strikes. Besides, it has been confirmed that many cement truck owners are returning to work. Since Monday, the government has been investigating 33 transport companies and 791 truckers who have been issued back-to-work order. So far, 7 transport companies and 43 truck owners have resumed work.
There is also a sign of recovery in cement shipments. By company, Hanil Cement shipped 22,461 tons on Tuesday, 112 percent of the usual volume. Sungshin Cement and Asia Cement shipped 24,875 tons and 11m826 tons, respectively, more than 85 percent of the usual amount. It was found that the amount of containers in and out of 12 major ports across the country at night has returned to normal level.