Naver CI/ Source: Naver
AsiaToday reporter Park Jin-sook
It is reported that Naver's Smart Store is damaging small businesses and startups by stirring up price competition and changing exposure frequency.
If you search for 'Naver Smart Store losses' or 'Naver Smart Store Gapjil' on portals such as Naver and Daum, many articles are posted. Many people point out that Naver's Smart Store, which is supposed to help small business owners and startups who do not have their own mall to sell their products online, is actually damaging them.
Naver Smart Store is an online shopping solution provided by Naver's own platform called 'Naver Shopping'. Small business owners can open their own stores and register their products on Naver Smart Store for free. Fees are cheap at 1.98 percent for those with annual sales of less than 300 million won, attracting many small and medium-sized businesses and early start-ups.
◇ 'Unlimited competition' and worst margins due to 'lowest price' category
Naver Shopping has several categories, such as Price Comparison, NaverPay, Department Store, Home-shopping, and Overseas Direct Purchase. If you click 'Price Comparison' category, you can see which product is being sold at the lowest price. This means that only those products with the lowest price are exposed on top of the site.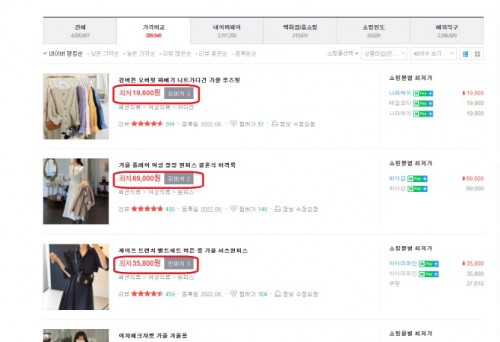 In the 'Naver Shopping' category, a product at the lowest price is exposed at the top of the screen./ A screenshot of 'Naver Shopping' category.
For this reason, Smart Store vendors have no choice but to lower their margins in order to expose their products on the top of the shopping category.
◇ Frequently changing algorithms and exposure rankings
Businesses under the Smart Store work hard to put their products on the top of Naver Shopping page. However, even if those products make No. 1 in search results, and appears on the top of the Naver Shopping page, they often go down to the middle or bottom of the second or third page when Naver changes its Search Results Page Algorithm, causing sales to be cut in half.
Such case occurred in 2020. When searched for the lowest price in Naver Shopping, most of the products that were linked to open markets such as Interpark, 11st, Lotte On, Gmarket ,and Hyundai Mall, were posted instead of those linked to smart stores.
Naver's search algorithm change has been caught by the Fair Trade Commission (FTC) in October 2020. The FTC ordered a correction and imposed a fine of nearly 26.7 billion won, saying, "Naver intentionally adjusted or changed its own search algorithm so that the products of companies in its open market were exposed at the top of the search results." In March last year, Naver filed a lawsuit asking the FTC to cancel its disposition. The case will be resulted in the upcoming December.
◇ Commission of up to 5.63%
Since products are not exposed frequently on the Naver Smart Store, businesses have no choice but to enter Naver Shopping. Business owners who sell their products on the Smart Store can expose their products on Naver Shopping by paying 2% additional fee. If buyers choose to pay products via Naver's payment 'Naver Pay', a total of 3.98 to 5.63% fee is imposed to sellers.
This is why Naver Smart Store claims it helps business owners and startups, but in reality, it is squeezing them.