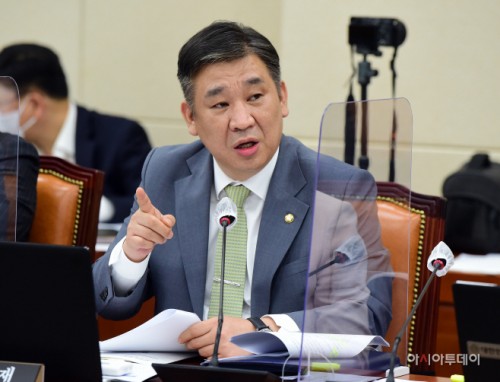 Rep. Choi Seung-jae of the People Power Party (PPP) asks a question to Fair Trade Commission (FTC) chairman Han Ki-jung during the parliamentary audit on the FTC, the Korea Consumer Agency, and the Korea Fair Trade Mediation Agency by the National Assembly's State Affairs Committee on Oct. 7, 2022./ Photographed by Song Eui-joo
AsiaToday reporter Kim Na-ri
Suspicions have been raised that Naver, the operator of South Korea's dominant internal portal that has been stressing social responsibility by promoting win-win activities with small business owners, misused the funds raised for mutual growth with small businesses.
Controversy over moral hazard is being raised amid suspicions that Naver unfairly used some of the 100 billion won it provided to relieve consumers and small business owners who suffered losses due to unfair practices in 2014. The internet giant is also under fire for its lack of credibility as a supervisory authority as its executive has been serving in the Korea Internet Advertising Foundation (KIAF), which monitors and supervises Naver's win-win business projects.
In response, Naver said, "We have no official statement."
According to the data revealed Monday by People Power Party (PPP) lawmaker Rep. Choi Seung-jae, a member of the National Assembly's State Affairs Committee, Naver provided 1.3 billion won to the Institute for Peace Affairs (IPA) for research and development of the North Korean government, including the Encyclopedia of Native Koreas, and 100 million won for the establishment of an encyclopedia of mathematics.
Rep. Choi pointed out that hundreds of millions of won have been misused. "Naver was able to close the case without fines or sanctions from the Fair Trade Commission (FTC) by promising to implement corrective measures such as restoration and damage regulation, but it spent about 28.3 billion won on its banners and advertisements, used in projects that had nothing to do with consumers and small business owners, such as R&D on North Korea or math encyclopedia," Choi said. "There is a moral issue with using funds to squeeze small business owners to promote their company and make money."
Naver, which was investigated by the FTC for unfair practices such as providing its own services first for keyword search while excluding services from its competitors, was not sanctioned but it came up with a plan worth 100 billion won in 2014 to support the win-win growth of consumers and small and medium-sized businesses.
Specifically, Naver decided to provide 20 billion won to the KIAF to settle disputes related to internet search businesses, 30 billion won to improve consumer welfare and support small and medium-sized businesses, and 50 billion won to the Small and Medium Business Hope Foundation.
In fact, Naver donated 20 billion won to the KIAF, 46.8 billion won to the win-win support project, and 50 billion won to the Hope Foundation.