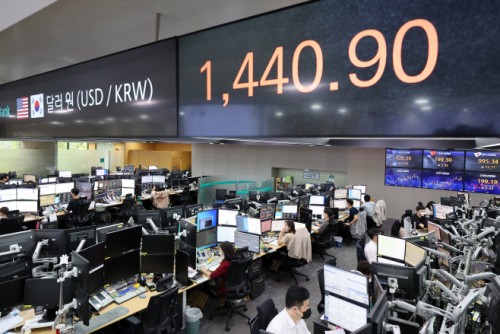 The Korean currency surpasses 1,440 won per dollar on Sept. 28, 2022./ Source: Yonhap
AsiaToday reporter Jang Soo-young
The value of the U.S. dollar is the strongest it has been in decades. The global financial market is shaking as the value of the dollar is skyrocketing following an aggressive rate hike by the Federal Reserve (Fed), the central bank of the United States. The Korean won to U.S. dollar exchange rate soared above the 1,400 level, and the world's major currencies, such as the pound, euro, yen and yuan are plunging.
Global recession is looming as the value of global currencies are declining sharply. There are concerns of another financial crisis that gripped Asia in 1997.
The won closed trading on Wednesday at 1,439.9 per dollar. The Korean currency crossed 1,440 won mark per dollar during intraday trading for the first time since March 16, 2009. The exchange rate has been on a steep upward trend recently. Back on Monday, the won soared 22 won in a day, crossing the 1,420-won mark and the 1,430-won mark during intraday trading.
The Seoul's stock market fluctuated as well. The KOSPI main index plunged 2.45 percent to 2,169.29 points – the lowest since July 10, 2020. The tech-heavy KOSDAQ fell 3.5 percent to 680-level. This year, the KOSPI and KOSDAQ fell 27.15 percent and 34.83 percent, respectively. Financial authorities believe the decline in the stock market is unusual, and plan to take measures to ease volatility in the stock market. The Financial Services Commission has already started working-level discussions with investment institutions, including securities-related institutions, regarding the re-operation of the securities market stabilization fund.
Not only the domestic financial market, but also the global economy is helpless against the strong dollar. The eurozone has entered an era of parity, where the par value of the euro and the dollar are equal. The market observers predict that the British pound could slide to parity soon. In the United Kingdom, the pound fell early Monday to an all-time low of $1.03.
The major Asian currencies, including the Japanese yen and Chinese yuan, are also showing a sharp decline. The yen continued to plummet on Wednesday, falling to the 144-yen per dollar level. The Chinese yuan broke through 7.2 against the dollar, sinking to its lowest levels in two years.
Japan and China are unable to raise their key interest rates as the economy has cooled down. Earlier this month, the Japanese government and its central bank invested about 30 trillion won to prevent the depreciation of the yen. It was the first intervention in the foreign exchange market in 24 years, but it was not enough. The central bank of China also took measures last Monday aimed at stabilizing the foreign exchange market, but failed to prevent the depreciation of the yuan.