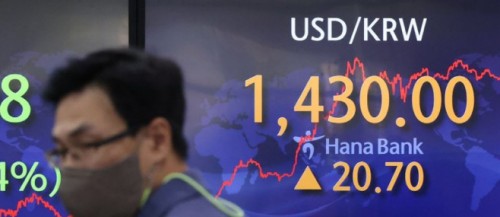 The South Korean currency slided below the 1,420-won mark against the dollar for the first time in more than 13 years during intraday trading. The photo is taken on Sept. 26, 2022./ Source: Yonhap News
AsiaToday reporter Jeong Geum-min
The won-dollar exchange rate crossed the 1,430-won mark per U.S. dollar for the first time in more than 13 years.
As the U.S. Federal Reserve (Fed) carried out a series of giant steps, the super-strong dollar trend continued, dropping the values of the South Korean won, the Chinese yuan and the Japanese yen and further fluctuating major stock markets in Asia.
Some even warn that the 1997 Asian financial crisis could reoccur.
The won closed trading on Monday at 1,431.3 per dollar, up 22 from the previous session. The won crossed the 1,430 won mark per dollar during intraday trading for the first time since March 17, 2009, when the won hit 1,436 against the dollar. The won-dollar exchange rate started trading at 1,419 won per dollar, up 9.7 won from the closing price on the previous day. After that, it crossed the 1,420-won mark and crossed the 1,430-won during intraday trading.
As the foreign exchange market fluctuated, so did the Seoul's stock market. The KOSPI main index ended at 2,220.94, the lowest level in more than 2 years. The KOSDAQ fell 36.99 points, or 5.07 percent, to end at 692.37.
Due to the super-strong dollar, not only the won-dollar exchange rate, but also the currencies of major Asian countries, such as the yuan and yen, are experiencing a decline and their stock markets are shaking.
Bloomberg News reported that the currencies of major Asian countries fell one after another, raising the possibility of the 1997 Asian financial crisis.
While the Fed raised its key interest rate by 3 percentage points this year, the central banks of Japan and China either maintained ultra-low interest rates or implemented stimulative monetary policies. According to Bloomberg, the yen-dollar exchange rate soared 24.922 percent while the yuan-dollar exchange rate soared 12.151 percent this year.
Bloomberg noted that the weak yen and the yuan are making matters worse for other Asian countries that heavily rely on their foreign exchange reserves to offset the effects of the dollar. It warned that a sharp drop in the yuan and the yen could lead to large capital outflows, leading to a currency crisis.
The problem is that the interest rate gap is likely to widen further. Currently, the U.S. benchmark interest rate is in the range of 3.0 to 3.25 percent, and the Fed expects a 4.4 percent base rate at the end of this year and 4.6 percent at the end of next year.
On the other hand, China and Japan have relatively little room to respond to the key rate hikes. Japan has been struggling long with chronic deflation. China is pushing for a rate cut in response to the economic downturn.
"Due to the U.S. base rate hike, the won-dollar exchange rate is skyrocketing," said Kang In-soo, an economics professor at Sookmyung Women's University. "This could accelerate the influx of funds to the United States. Our authorities should come up with countermeasures such as currency swaps."