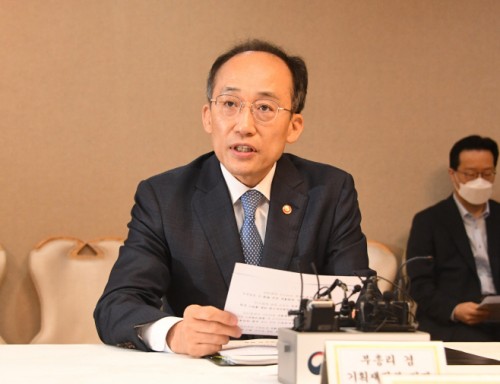 Finance Minister and Deputy Prime Minister Choo Kyung-ho speaks during a meeting of real estate-related ministers at the government complex in Seoul on Aug. 16, 2022./ Source: The Ministry of Economy and Finance
AsiaToday reporter Lee Ji-hoon
The government will supply 2.7 million new homes in the next five years, including 500,000 homes in Seoul. In order to do this, it plans to ease regulations for redevelopment and reconstruction and allow the private sector to participate in urban development projects.
The government unveiled the home supply plan Tuesday at a meeting of real estate-related ministers at the Government Complex building in Seoul.
"The government will completely revamp the past method of home supply and realize a paradigm shift in housing policy," Finance Minister Choo Kyung-ho said. "The policy will focus on providing a high-quality living environment from a supply-oriented simple supply, and will promote comprehensive residential space innovation aimed at improving the quality of life for the working class and middle class."
The government said it will supply 500,000 homes in the capital over the next five years, a more than 50 percent increase from the amount supplied in the past five years. It plans to provide 1.58 million homes in Seoul and metropolitan area and 1.12 million houses in other provinces to stabilize the real estate market.
Of the planned homes, 520,000 homes will be provided through redevelopment, reconstruction and government-led development projects in Seoul and major cities; 880,000 homes will be available in the third and fourth residential towns to be built in Gyeonggi Province; and 1.3 million homes will be provided through private-sector development programs.
To support this, the government decided to ease the structural safety standards for existing apartments to be deemed eligible for reconstruction. It plans announce the improvement plan for a faster and active reconstruction process within the year.
The government will also allow property development companies in the private sector to join urban development projects.
Referring to the first new residential towns including Ilsan and Bundang in Gyeonggi Province built three decades ago, the government said it will introduce a "master plan which will nearly recreate the towns" by 2024.
Along with it, over 500,000 units will be provided to young, newlyweds, and first-time home buyers at prices only about 70 percent of the market rate.