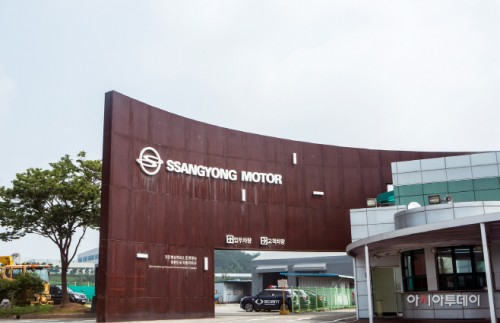 The main gate of SsangYong Motor's plant in Pyeongtaek./ Source: SsangYong Motor
AsiaToday reporter Choi Won-young
KG consortium has been selected as the final bidder for SsangYong Motor, beating underwear company Sasangbangwool. As the first step for normalizing the debt-laden carmaker's business has been made, attention is now focused on how KG Group will address a series of challenges it is facing, including restructuring and large-scale R&D for e-vehicles. Experts are positive about KG Group's sufficient surplus funds and possible collaboration between its chemical and steel affiliates and SsangYong Motor. However, they pointed out that securing new vehicle competitiveness and improving productivity through win-win cooperation with the union are obstacles that must be overcome.
The Seoul Bankruptcy Court on Tuesday chose the KG consortium as the final bidder for SsangYong Motor. In the auction, the Kwanglim consortium led by Ssangbangwool also submitted a bid, but failed to beat KG, which was the preferred bidder. According to SsangYong Motor, the decision is the result of a comprehensive evaluation, including the acquisition price and fundraising plans. SsangYong aims to sign a deal with the consortium in early July, submit its rehabilitation plan to the court in late July and obtain the court's approval for its restructuring in late August.
The Kwanglim consortium offered 380 billion won in the acquisition price for repayment of rehabilitation bonds, even larger than the KG consortium which offered 335.5 billion won. However, Kwanglim's fundraising plan of 750 billion won for operating funds was insufficient, while KG suggested to raise 564.5 billion won in operating capital with its own funds through a paid-in capital increase.
SsangYong Motor has taken its first step successfully, but there are many challenges ahead. The biggest challenge is to save the company of nearly 5,000 employees. KG had successfully acquired its steel company, formerly Dongbu Steel, in 2019. However, the steel company was on sale with minimum manpower, enabling restructuring only by selling its own assets. But this time, it's different. Restructuring itself is considered taboo as former President Moon Jae-in directly requested to Indian automaker Mahindra and even proceeded with "reinstatement of laid-off workers."
It is cutting their wages at the moment, but if they return to receive an average annual salary of 86 million won, it will need more than 430 billion won in labor costs per year. There are employees looking forward to the restoration of "welfare", which has been halted for more than two years. Besides, many claim that it is unclear how the union, which is now cooperative to the company, would change later.
It is also interesting to see how KG Group, which has not experienced the automobile business, would open up the electric vehicle era for SsangYong Motor. It needs to lead the paradigm through large-scale research investment with SsangYong's decades-old heritage and know-hows.
Of course, there are positive signs for business normalization. Its first electric vehicle the new Korando e-Motion, which is not being produced now due to the shortage of parts, is evaluated to be sufficient to present a new milestone. Through a strategic alliance with Chinese leading electric vehicle company BYD, it plans to launch 'U100' in the second half of next year. It will also secure an export volume of 30,000 units from next year for CKD project with Saudi National Automobiles Manufacturing (SNAM) as construction of a local plant began back in January.
In particular, the prospect of its new sports utility vehicle (SUV) Torres, which signed a 12,000 unit deal on the first day of the pre-contract and surpassed 23,000 units in total, is bright. "If this M&A is completed successfully, we will accelerate the normalization of business by carrying out the development of additional models without any setbacks based on the success of Torres," said Chung Yong-won, court-appointed manager for SsangYong Motor.
SsangYong plans to release the all-new Torres SUV early next month, and is appealing to consumers that they will be able to receive it within the month if they purchase it in advance. "The semiconductor supply shortage has been resolved to some extent, and the lockdown of Chinese cities due to the COVID-19 has been lifted," an official from SsangYong Motor said. "We will have no problem in delivering vehicles as we have already secured a significant number of parts," the official added.
"The deal is expected to create synergy among affiliates of KG, which is active in chemical and steel. It also has 2 trillion won in spare funds. There won't be any problems in preparing the launch of new vehicles," said Lee Ho-geun, a professor of automobiles at Daedeok University.
"However, the successful pre-sale deals of Torres seems to be a reflection of delayed shipments of Hyundai motor and Kia. SsangYong's productivity needs to be greatly improved in order to regain its high-quality SUV title by keep launching new vehicles of merchantable quality constantly," the professor said.