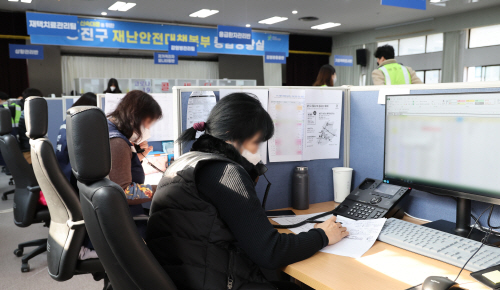 Medical staffs are monitoring high-risk at-home patients at the Disaster and Safety Countermeasures Headquarters in Gwangjin-gu Office, Seoul, on Feb. 21, 2022./ Source: Yonhap
AsiaToday reporter Lee Sun-young
Safety concerns are rising about the government's self-care scheme following deaths among those patients isolating at home. As of Monday, the number of at-home patients increased to 469,384, and many point out that the new scheme is not properly managing them.
According to health authorities Monday, a 7-month-old baby COVID patient, who was in home isolation in Suwon, Gyeonggi Province, died on Sunday while being taken to an emergency room for a high fever.
The paramedics, who got to the baby within 6 minutes of getting the call, contacted about 10 hospitals but failed to find an available bed. After travelling 38 minutes to a hospital 17 kilometers away, the baby was pronounced dead on arrival.
Many point out that those COVID patients living alone under home treatment find it more difficult to respond to in an emergency. On Saturday, a man in his 50s was found dead at home in Gwanak-gu, Seoul, where he was isolating two days after testing positive. His family had last contacted him a day before he died, and called for help when he could not be reached. When first responders got to him, he was already dead.
In reality, at home treatment is not much different from home isolation because it is not managed by the government. Since Feb. 10, the government has limited its monitoring group to COVID-19 patients aged 60 and older. Most of COVID patients younger than 60 are undergoing home care rather than receiving treatment at a hospital. In the event of an emergency while receiving at-home care, patients can call 119 to be transferred to the hospital, but at least two patients died in the Seoul area while in home treatment over the weekend.
Sohn Young-rae, a senior health official, said that an investigation was underway to see the cause for delay in getting the baby to the hospital. "We see that it was a problem of emergency medical system rather than bed shortage," Sohn said. Earlier, health authorities had said that they can stably handle 2,500 critically ill patients under the current medical system.
However, medical staff claim that both the emergency medical system and the capacity of hospital beds are not fully prepared.
"After only five minutes of not breathing, you are likely to die, and 38 minutes of transfer is a long time," said Jung Ki-seok, a professor of pulmonary vascular disease at Hallym University Medical Center. "There was a delay, which means there was no bed available or a medical system to take care of a 7-month-old critically ill patient," he added.
Jung also pointed out that there is not enough hospital beds. "There are some 9,000 intensive care beds across the country, but hospitals cannot take care of other seriously ill patients if there are 2,500 COVID-19 patients," he said.