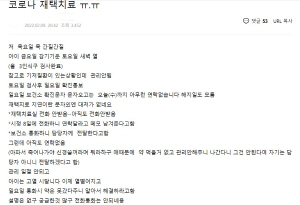 A post about at-home treatment on an online café with over 150,000 members on February 16, 2022./ Source: Naver café named Galmuri
AsiaToday reporters Lee Sun-young & Park Ah-ram
Dissatisfaction is growing among low-risk COVID-19 patients who are not properly being monitored as the government has drastically eased some monitoring for patients receiving at-home treatment. They claim that they are not "treated at home" but are being "left alone." The government says that they will monitor COVID-19 patients through hospital and clinic treatment. However, many point out that they are actually neglected in the quarantine blind spot as they find it difficult to contact local hospitals when their conditions worsen.
According to reports on Wednesday, a 30-year-old COVID-19 patient surnamed Kim, who was receiving treatment at home in Gangbuk, had a fever of 39.4 degrees. He tried to contact a local clinic, but failed to receive treatment immediately because the clinic had too many calls. "There was only one local hospital available for night-time treatment, so I suffered from high fever all night," Kim said.
"I also had a tough time trying to contact hospital," said Vice Health and Welfare Minister Ryu Geun-hyuk, who is being treated at home after testing positive for COVID-19, in a phone interview with a radio program. "Most of people who receive at-home treatment for the first time may be confused because of lack of information," Ryu said.
There were also cases where patients did not even have contact with health authorities. "I was diagnosed with COVID-19 in the morning, but I did not receive any contact from the public health center until 3 pm," a 20-year-old Seoul resident surnamed Chung said. "The only thing they told me is I had to wait because there were already many patients waiting for a call."
It is predicted that the number of at-home care patients will increase significantly due to the fast spread of the highly transmissible omicron variant. As of Wednesday, the country added 69,701 cases of at-home care patients. Among them, 9,048 patients were in the high-risk groups and the remaining 60,653 were in the low-risk groups. The country's daily COVID-19 cases surged to over 90,000 on Wednesday. The number of at-home care patients is expected to increase sharply when the health authorities reorganize their medical system on Thursday that focuses on patients that need intensive care.
There are many patients who experienced inconvenience due to low accuracy of self-diagnosis test kits. "I was able to undergo a PCR test a week after I got sick because I tested negative with self-test kits," Chung said. "I tested with self-test kit three times a day because I experienced symptoms, but all of them was negative," said a 20-year-old Gwacheon resident surnamed Lee. "The test kit costs 10,000 won each, and it cost me nearly 200,000 won," Lee said.
The Korean Society for Laboratory Medicine revealed that the level of accuracy for rapid antigen tests stands at less than 50 percent even when performed by medical personnel, and less than 20 percent when performed by tester himself. "The sensitivity of the rapid antigen test is considered to be lower than that of the PCR test, so it is currently being used as an supplementary means of the PCR test," the health authorities said.