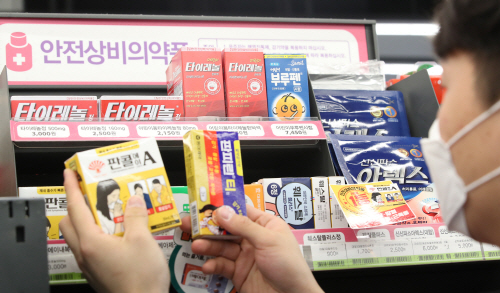 A customer picks up cold medicine at a CU convenience store on Oct. 18, 2021. According to the company, recent cold medicine sales increased 40.9 percent from the previous week./ Source: Yonhap
AsiaToday reporters Lee Sun-young
The cold-and-flu season is coming amid a spike in COVID-19 cases. The parainfluenza virus, also known as the summer cold, is making an unsual appearance in South Korea, putting the health and education authorities on high alert as in-person classes at schools have started nationwide.
The country reported 2,667 new COVID-19 cases Wednesday, the fourth highest the nation has seen and a jump of nearly 1,000 from the previous day. The number of patients infected with parainfluenza virus from Oct. 17-23 stood at 515, which is 9.2 times higher than that from Sept. 12-18 with 56 cases.
The parainfluenza usually spreads between April and August and disappears in October, but it is making an unusual appearance, according to health authorities. KDCA senior official Lee Sang-won said that the parainfluenza virus is spreading rapidly because of the increase in social activities in the warm fall weather.
Currently, nine out of 10 patients infected with parainfluenza are infants under the age of 6, and most are not vaccinated against COVID-19. Due to the long incubation period and lack of treatment, worries are especially rising among schools which resumed in-person classes.
"One of my students had a bad cough yesterday and couldn't come to school," said a 25-year-old elementary teacher in Jangseong-gun, South Jeolla Province. "I think school attendance should be implemented differently by region," she said.
Posts concerned about parainfluenza infection were posted on online communities for moms. "My child got parainfluenza from a daycare center and I had to take care of him at home for two weeks. But some kids went to daycare center although they had symptoms. I'm worried my child will get infected again," an online mom community member said.
The authorities say the appearance of the parainfluenza virus may lead to the spread of the flu this winter. "Parainfluenza and flu are completely different, but they have one thing in common: both of them have outer cover," Lee said. "Unlike last year, the spread of a virus with such a shell suggests that there could be a higher possibility of the flu spreading this winter."
The flu, COVID-19, and parainfluenza are all respiratory-related viruses, making it difficult to distinguish symptoms. A rush of patients who misidentify other virus symptoms for COVID-19 may be a burden on the health care system.
"The symptoms of the three viruses are similar, and hard to distinguish from each other, especially in general clinics where children patients usually go," said professor Jung Ki-seok of the department of pulmonology at Hallym University Sacred Hospital. "Parainfluenza is not a deadly virus, but should be dealt with caution because it spread may lead to the spread of other viruses."