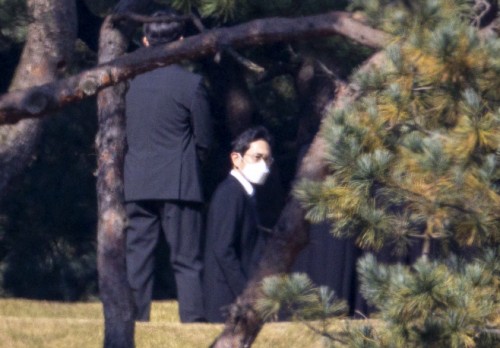 Samsung Electronics Vice Chairman Lee Jae-yong attends a memorial ceremony marking the first anniversary of the death of his father, Samsung Group Chairman Lee Kun-hee, at a family burial site in Suwon, Gyeonggi Province, on Oct. 25, 2021./ Source: Yonhap News
AsiaToday reporter Hong Sun-mi
"Today, I renew my resolve in commemoration of the Chairman's fierce life and passion for his dream. With a humble mind, let's move forward together to create a better Samsung and a better future for our society."
Samsung Group's de facto leader Lee Jae-yong made the remarks in a private memorial ceremony marking the first anniversary of the death of his father, Lee Kun-hee, held at the Samsung Human Resources Development Institute in Yongin, Gyeonggi Province, on Monday.
Experts say the junior Lee's first public message since being released on parole in August reflects his resolve to make a fresh start for Samsung. Also, his emphasis on the future of Korean society is believed to show his determination to make Samsung a company respected by the people not only through its external growth of business, but also through job creation and social contribution.
The memorial service was held privately by the Samsung family, including Samsung Electronics Vice Chairman Lee Jae-yong, former director of the Leeum Museum of Art and Lee Kun-hee's wife Hong Ra-hee, Hotel Shilla CEO Lee Bu-jin, Samsung Foundation head Lee Seo-hyun, and Samsung Economic Research Institute President Kim Jae-yeol.
Samsung said the ceremony was observed by only family members, in accordance with the will of the bereaved who wanted to have a simple event.
No other official ceremony was held to mark the day, considering the current COVID-19 pandemic situation. Above all, the family reportedly wanted the ceremony to be held quietly.
It seems that the circumstances surrounding the vice chairman, such as the trial and the controversy over employment restrictions, have also affected the Samsung family to hold a quiet event. Lee has been on trial over a controversial merger of two Samsung affiliates and alleged accounting fraud since October last year. He is also waiting a final court verdict on Tuesday for alleged illegal use of the drug propofol.
The business community believes that the recent quiet memorial services held by other conglomerates, such as LG and Hanjin, may also have had an impact. On May 30, 2019, a memorial ceremony marking the one-year anniversary of the death of former LG Group Chairman Koo Bon-moo was held for some 20 minutes in LG Twin Tower in Seoul with some 400 executives from major affiliates in attendance.
On April 8, 2020, a memorial ceremony marking the first anniversary of the death of former Hanjin Chairman Cho Yang-ho was held in Yongin with some 90 company officials in attendance. Hanjin did not hold any internal memorial event by then.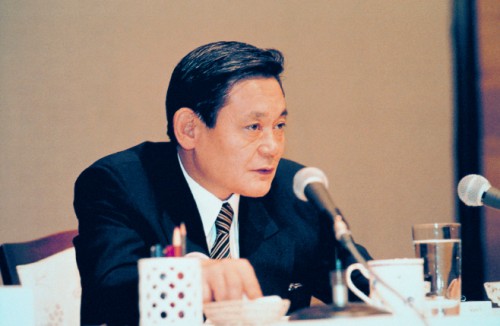 Samsung Group Chairman Lee Kun-hee speaks at employees in Frankfurt in 1993. He emphasized quality management during the meeting./ Courtesy of Samsung Electronics.
Although Samsung did not host an in-house memorial event, nearly 20 affiliates opened an online memorial hall on their own intranet to commemorate the deceased.
Samsung also installed a bust sculpture of the late chairman in Samsung's employee training center in nearby Yongin to commemorate the chairman's efforts to nurture creative talent based on his philosophy that prioritized talent.
Chairman Lee died of a cardiovascular disease at age 78 after spending 6 years in bed.