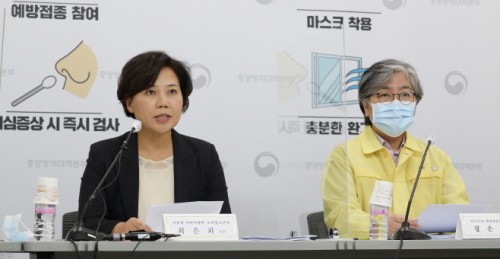 Choi Eun-hwa (left), chair of the Korea Advisory Committee on Immunization Practices, explains expert opinions on inoculation of children and adolescents, at a special briefing on the COVID-19 infection held at the Center for Disease Control and Prevention in Cheongju city, North Chungcheong, on Sept. 27, 2021./ Source: Yonhap
AsiaToday reporter Park Ah-ram
South Korea will begin inoculating adolescents aged between 12 and 17 and pregnant women Oct. 18. Also, booster shots will be provided to the elderly population and healthcare workers.
The Korea Disease Control and Prevention Agency (KDCA) announced the list of fourth-quarter vaccine recipients Monday.
Under the plan, the government will sequentially vaccinate about 2.77 million youths aged between 12 and 17 starting Oct. 18. Pre-booking of vaccination will be carried out by age, in consideration of the influenza vaccination period and the academic calendar.
Those aged 16 and 17 should book vaccination from Oct. 5 to Oct. 29, and get inoculated from Oct. 18 to Nov. 13. Those aged between 12 and 15 should book vaccination from Oct. 18 to Nov. 12, and get vaccinated from Nov. 1 to Nov. 27.
Children and adolescents will be vaccinated twice with Pfizer shots with a three-week interval between the two doses. Vaccination will be carried out at entrusted medical institutions with the consent of their guardians after pre-booking.
Booking for pregnant women will start from Oct. 8. Starting Oct. 18, either Pfizer or Moderna shots will be provided at consigned medical institutions nationwide. The KDCA recommended those having underlying disease or those pregnant women in the early stages of pregnancy to undergo a medical examination in advance before getting vaccinated.
The government will provide booster shots to medical workers and the virus-vulnerable groups, such as those aged 60 or older and patients with underlying conditions. Booking will begin on Oct. 5 and vaccination will start from Oct. 25.
In addition, the government plans to speed up vaccinations by shortening the vaccination interval for mRNA vaccines such as Pfizer and Moderna shots, whose interval between their two doses have been extended to six weeks.
"We will do our best to prepare for safer vaccinations as additional vaccinations for children and adolescents, pregnant women and high-risk groups will start in earnest starting October," said KDCA chief Jeong Eun-kyeong.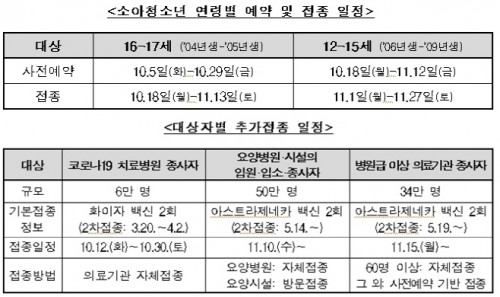 Reservation and inoculation schedule for children and adolescents, as well as medical workers and and virus-vulnerable groups / Source: Korea Disease Control and Prevention Agency (KDCA)