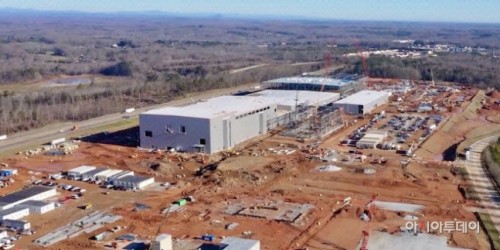 SK Innovation's EV battery factory under construction in the U.S. state of Georgia/ Source: SK Innovation
AsiaToday reporter Choi Jeong-ah
SK Innovation and LG Energy Solution are expected to compete against each other in the US battery market as SK Innovation will establish a joint venture with Ford Motor Company for electric vehicle battery cells. The SK-Ford partnership is expected to be similar to what LG Energy Solution has with General Motors (GM). As SK Innovation has recently settled legal risks with LG, it is expected to actively expand its presence in the US battery market.
SK Innovation and Ford Motor signed a memorandum of understanding on Thursday to establish a joint venture. The two companies are likely to establish a joint factory to manufactures battery cells for batteries used in electric vehicles through the joint venture.
The reason for the speedy establishment of a joint venture between the two companies is that the barrier to entering in the US market vanished as SK Innovation reached a dramatic agreement in the battery dispute with LG Energy Solution. SK Innovation invested 2.94 trillion won in establishing a battery cell plant in Georgia, USA. The factory in Georgia is highly likely to offer its battery cells to Ford.
Observers say the competition between LG and SK over the US battery market is intensifying. It seems both companies are trying to preoccupy the market by increasing the number of batteries in the United States and expanding battery production. Since forming joint venture Ultium Cells LLC with GM in December 2019, LG Energy Solution has been investing aggressively in batteries. LG and GM are constructing a 30GWh battery plant in Ohio with an investment of 2.7 trillion won. They are considering establishing another plant in Tennessee.
Until now, LG Energy Solution and SK Innovation have been steadily expanding their battery business. LG Chem's battery business revenue in the first quarter reached 4.21 trillion won or 43.7 percent of the total revenue, increased by nearly 13 percentage points compared to 2019. SK Innovation's battery business sales jumped to 526.3 billion won in the first quarter, accounting 6% of the total sales.
Industry observers say that Korean battery's international presence is expected to expand thanks to the competition for preoccupation in the US market between LG and SK. Some predict that South Korean companies will occupy up to 68% of the battery market in the United States by 2025.