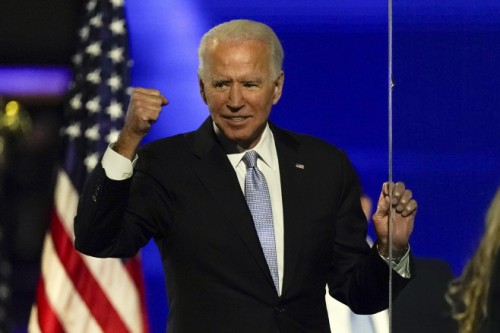 Joe Biden after his victory speech in Wilmington, Delare, on November 7, 2020./ Source: Wilmington AP=Yonhap News
Washington correspondent Ha Man-joo
Democratic presidential candidate Joe Biden was elected the United States' 46th president Saturday. His running mate, Kamala Harris, made history with her election as vice president, becoming the first woman, first Black American and first Asian American to win the second-highest U.S. office.
US media outlets reported Saturday that Joe Biden defeated Donald Trump in Pennsylvania, securing 273 electoral votes to become the next US president. Biden also won Nevada's six electoral votes for a total of 279, nine more than the needed 270 to win.
"They've delivered us a clear victory, a convincing victory, a victory for we, the people," Biden said in Wilmington, Delaware after he was declared the winner by all major US TV networks.
The president-elect reached out to Trump supporters with his message of national unity, saying, "This is the time to heal in America."
Harris delivered a message of hope to women in her first post-election address to the nation, saying, "While I may be the first woman in this office, I will not be the last.
However, US President Donald refused to accept defeat, saying the election was "far from over," and vowed to file a lawsuit Monday. Therefore it is expected to take some time to officially confirm Biden's victory. In the process, there is a possibility of clash between Biden and Trump supporters.
This means the division of American society that formed during Trump's four years in office could intensify.
In this situation, major US TV networks, including Fox News, declared Biden's defeat of Donald Trump in the US election.
Besides, world leaders offered congratulations to President-elect Joe Biden and Vice President-elect Kamala Harris. Even leaders who built strong relationship with Trump, like U.K. Prime Minister Boris Johnson and German Prime Minister Angela Merkel, quickly congratulated Biden.
The world is now preparing for Biden's administration.
Biden and Harris will be sworn into office on Jan. 20, 2021.
While serving in the Senate for 36 years since 1972, Biden served as chairman of Foreign Relations Committee and served eight years as vice president under Barack Obama. He visited South Korea several times, meeting South Korean presidents Kim Dae-joong and Park Guen-hye. He also visited the Demilitarized Zone (DMZ) on the Korean Peninsula.
US Korean Peninsula experts predict that as Biden stresses the importance of traditional alliance, the issues surrounding reduction of the US military presence in South Korea and defense cost-sharing will be resolved.