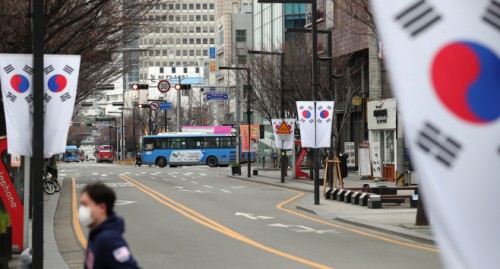 The photo taken on March 1, 2020, shows empty streets in downtown Daegu./ Source: Yonhap News
By AsiaToday reporter Joo Sung-sik
As South Korea reports hundreds of new confirmed Covid-19 (coronavirus) cases every day, experts point out that the next two weeks will be crucial in effectively halting the spread of the virus across the country.
The Korea Centers for Disease Control and Prevention (KCDC) reported another daily spike of new Covid-19 infections, with 586 additional cases bringing the total to 3,736 as of 4 p.m. Sunday. Of the new cases, 469 are in southeastern city of Daegu and 67 were reported in neighboring North Gyeongsang Province. Other major provinces and cities have reported some infections, with Seoul reporting an additional 10 cases, and Gyeonggi Province an additional 7 cases. Gangwon and South Chungcheong Provinces added eight more cases, respectively.
The country reported one more death, taking the total death toll to 18. The latest victim of the virus was an 83 year-old man in Daegu who had underlying diseases, including suffering from a stroke, diabetes and hypertension. He was in poor health since he was hospitalized, according to the KCDC.
While the number of confirmed cases is increasing rapidly especially in Daegu and North Gyeongsang Province, medical experts point out that the next two weeks will be a watershed moment to determine the possibility of the nationwide spread of the infection.
The Pan-Academic Covid-19 Task Force, a joint response committee comprising 11 medical groups including the Korean Society of Infectious Diseases, The Korean Society of Emergency Medicine, and Korea Society of Epidemiology, issued an urgent appeal on Saturday and said, "The next two weeks is important. We need to make stronger efforts to reduce social contact nationwide in order to effectively delay and deter the Covid-19 infections across the country."
Health authorities said the people should thoroughly keep up personal hygiene and make efforts to reduce social contact in order to limit the virus' spread and control transmission links of infections.
"At the moment, whether the virus would spread across the country would be known through a detailed investigation focusing on Shincheonji followers in Daegu," said Kwon Joon-wook, vice director of KCDC. He said the epidemic can be fully controlled if people practice thorough personal hygiene and social distancing.