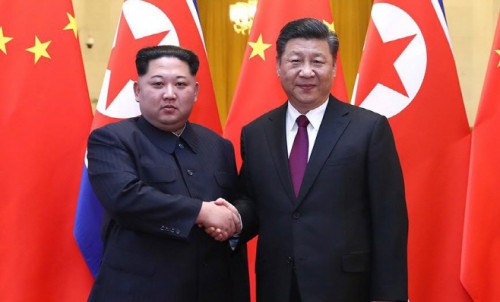 North Korean leader Kim Jong-un and Chinese President Xi Jinping./ Source: Xinhua News Agency


By Hong Soon-do, Beijing correspondent, AsiaToday
While China is suffering from the trade war with the United States, Chinese President Xi Jinping is facing a dilemma ahead of his planned summit with North Korean leader Kim Jong-un around Sept. 9, when the North celebrates the 70th anniversary of its founding.
Xi's Pyongyang visit to hold a summit with Kim was a highly likely scenario. However, China is not making a decision whether to visit Pyongyang or not after U.S. President Donald accused China of stalling talks with North Korea on the nuclear issue and cancelled U.S. Secretary of State Mike Pompeo's fourth visit to Pyongyang as a warning against China. Looking at the circumstances, Xi is highly likely to visit Pyongyang. However, if he decides to cancel the visit, the cancellation announcement is expected to be made shortly before the visit, considering the U.S. position.
Beijing's diplomatic sources said Monday that Xi's Pyongyang visit and his summit with Kim were considered facts until August 25, when Pompeo's visit to North Korea was cancelled. It was rumored that the Chinese Foreign Ministry and the Communist Party's International Department sent working-level officials to Pyongyang for Xi's visit and summit with Kim.
However, things have become complicated when Trump complained against China for not being helpful in denuclearizing North Korea along with his cancellation announcement of Pompeo's Pyongyang visit at the end of August. For China, Mr. Trump's remarks can be recognized as a warning for not taking an active role in restraining North Korea's nuclear ambitions. The United States has sent a clear message to China not to spoil the denuclearization mood, making it hard for China to carry out the Pyongyang visit.
"It's a real dilemma. If China ignores the U.S. warning and carries out Xi's Pyongyang visit, then it has to persuade North Korea to denuclearize in order to satisfy the United States. But this is not going to be easy. But if China decides not to visit the North, it would give an impression externally that China was forced to bend to U.S. pressure," said an university professor in Beijing, who requested anonymity.
Chinese leaders Jiang Zemin and Hu Jintao made official announcements of their visit in September 2001 and October 2005, respectively, which are exactly one week before their visit. But there is no news from China now. This is why some observers say Xi has cancelled his Pyongyang visit. However, Xi's visit is still likely, considering the fact that Chinese authorities have beefed up security around the North Korean Embassy in Beijing.