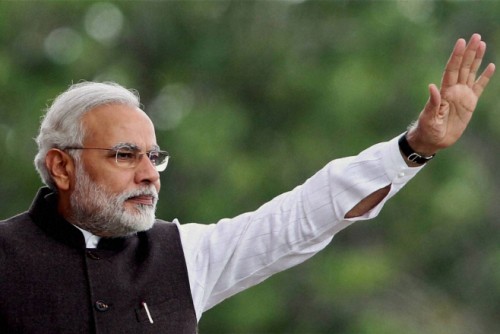 On May 26, the Narendra Modi government will complete three years in power./ Source: PM Narendra Modi's Twitter

By Jeong In-seo, New Delhi correspondent, AsiaToday
Narendra Modi, who will complete three years in office on May 26, remains a popular Prime Minister with 61% approval rate.
Sixty-one percent of some 40,000 respondents by LocalCircles online citizen engagement platform said they are satisfied with the performance of the Modi government, reported local newspaper Hindustan Times on May 16. 44% said the government had met their expectations while 17% said their expectations had been exceeded. Only 39% said the government's performance was below expectation.
For this reason, I asked Indian citizens how they think about Modi's ambitious project, Clean India.
"I don't know if the streets are getting cleaner. If you look around, the answer comes out. In order to clean the streets, education should be provided from schools," said Sanjeet, who lives in Nehru Place, South Delhi. "But I heard that PM Modi uses the broom himself to clean up and put away waste. Many people are supporting him because he is clearly different from ordinary politicians. I also support him."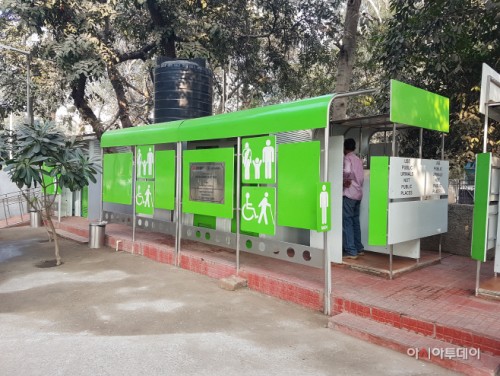 Prime Minister Modi aims to build more than 110 million toilets all over India./ Photographed by Jeong In-seo
Pramod, a 32-year-old taxi driver in New Delhi, said, "It's certainly cleaner than before. It's good to have more public toilets than anything else. I used to pee everywhere before. But now I use public toilets."
Manisha Vhora said she firmly supports Modi's toilet-building project. She said, "There weren't enough toilets in rural areas. Because of this, women were always exposed to danger. Modi's toilet project has helped to alleviate this concern. I hope that Modi build more toilets so that women are able to use toilets safely."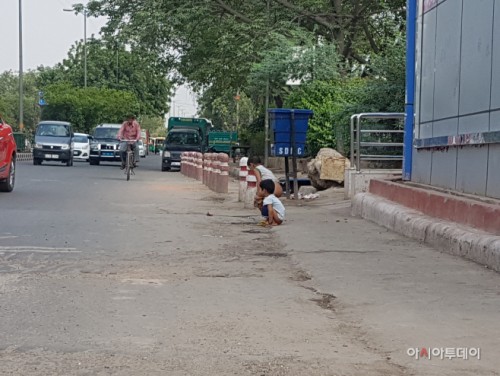 Many point out that educating public on toilet etiquette is as important as increasing the number of toilets. The photo shows children defecating on a road in New Delhi. There is a public toilet behind the building, but only a few use it./ Photographed by Jeong In-seo
A citizen who asked for anonymity, said, "We agree that Modi will do his best to build more toilets. But I hope he also pays attention to changing people's habits. Many people are reluctant to use toilets and many toilets are being ignored. The government should be more active in publicizing the use of toilets."
The Modi government set an aim of building 110 million toilets across the country by 2019 under Clean India mission. In the case of Indore, where the actual toilet construction was completed, has been declared an open-defecation free (ODF) city for actively involving in the improvement of sanitation facilities. The city has constructed 190 public toilets, 400 modular and 12,000 individual toilets to prevent people urinating and defecating in public.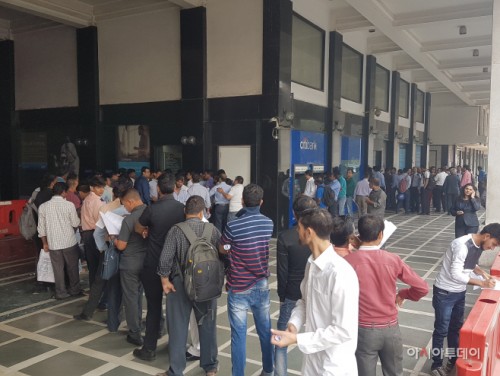 Many people were inconvenienced by India's currency reform./ Photographed by Jeong In-seo
I also heard a lot of thoughts about the country's currency reform.
Paran Chopra, an office worker, said, "Currency reform was a tough time for us. But it showed there's hope to eradicate black money. I never imaged PM Modi would put into action. I hope that he keeps solving problems of the Indian society."
Chopra's colleague, Gulab Singh, also supported Modi's currency reform. "It was really tough in the first month. But there was hope of developing the country by paying taxes honestly. Although it did not root out black money, it's true that it was hit. PM Modi should continue his war against it."
Others, however, criticized the reform.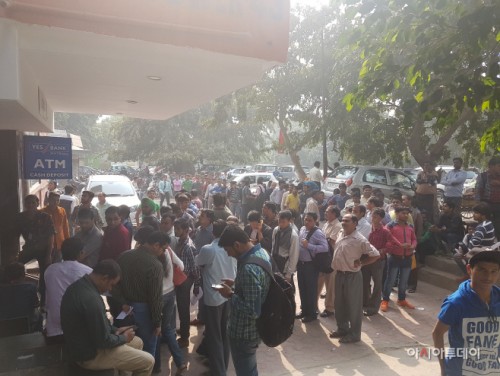 Many flocked to banks earning in the morning when India introduced the currency reform./ Photographed by Jeong In-seo
One citizen who asked for anonymity said, 'It was like rooting out poor people instead of black money. One of my family members was sick and had to get medicine at the time of currency reform. But most of hospitals and pharmacies didn't take old notes. The government definitely said that they accept old notes but they didn't. And my family member got sicker and eventually died. Modi killed him indirectly."
Santosh, who owns a private business, complained about the currency reform. "It happened so suddenly. Most of business owners in India have cash. It was difficult to exchange old notes for new currency. The toughest part was when I couldn't pay my employees in time. Payments are like life-strings for employees. Rich people can withstand a day or two, perhaps a month without cash, but they can't. I actually witnessed many cases of many ordinary people committing suicides on the TV news. But, Modi told us that we should just endure hardship. The currency reform had good intentions, but I'm not sure if it's worth to change people's lives."
In fact, nearly 30 people died from heart attack, suicide and other reasons within a week as the aftermath of India's currency reform.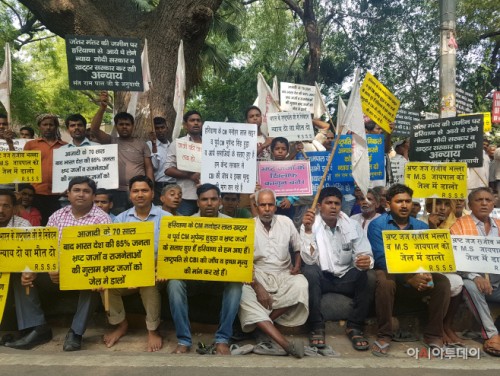 The members of Rashtriya Swayamsevak Sangh (RSS) holding a rally./ Photographed by Jeong In-seo
There were also voices of concern for the Modi government.
A postgraduate student who asked for anonymity claimed, "The activities of Rashtriya Swayamsevak Sangh (RSS) have been strengthened since Modi took power, which led to religious conflicts. Recently, they are attacking Muslims for religious reasons. I don't know why they regard cows as more valuable than people. PM Modi needs to show a firm attitude toward them."
In recent years, there have been frequent attacks on Muslims in India. In April, a Muslim man died after a gang of Hindu cow protectors attacked his cattle truck on a road in India.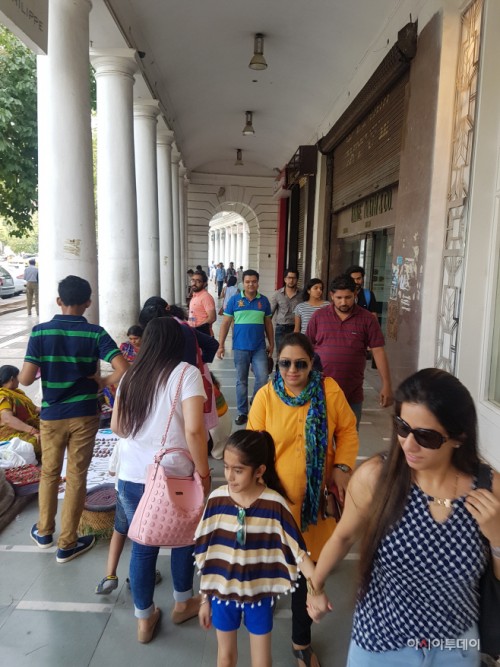 Many Indians support PM Modi./ Photographed by Jeong In-seo
However, most people strongly support the prime minister.
Anil said, "I had never seen a change in India when the Indian National Congress (INC) took power, but the Modi government is different. Modi is carrying out many initiatives. There aren't many achievements yet, but they will definitely come out after time. We can wait."
Harikesh said, "I guess there aren't many people who blame the Modi government's three years. The one that blames him would be either someone who has just come to India or someone who's not living in India. Modi is a man who became prime minister from tea seller. He understands us well. He is a blessing and an idol to us."