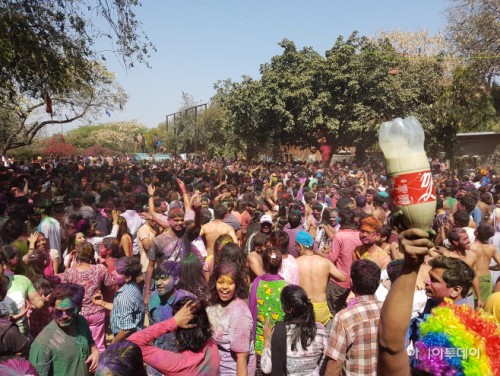 During Holi, the spring festival in India, a drug called bhang is tacitly accepted for use. The bottle in the right side of the picture contains bhang./ Photographed by Jeong In-seo

By Jeong In-seo, New Delhi correspondent, AsiaToday – India is infamous for high rape crimes and concerns about the safety of tourists are growing as a foreign tourist has been raped and murdered again.
Danielle McLaughlin, a 28-year-old who had dual British and Irish citizenship, was found dead in southern Goa on Mar. 14, and postmortem reports have confirmed that she was raped and later done to death, reported local media outlets including the Hindustan Times and Times of India on Friday.
Police have arrested Indian man Vikat Bhagat, 24, for alleged rape and murder. The suspect has confessed to raping and later killing the woman in a bid to hide his identity, said the police.
There are many concerns being raised due to the growing number of sex crimes against foreign female tourists. In response, AsiaToday talked with female Korean tourists about sexual harassment and safety accidents they had experienced during their trip in India.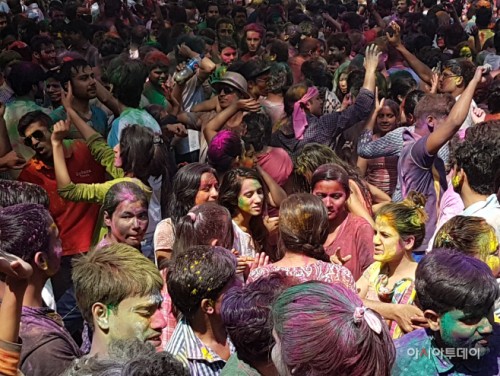 Foreign tourists travelling to India as well as Indian women are always exposed to sexual harassment and sexual assault./ Photographed by Jeong In-seo
On the 18th, I visited Paharganj in New Delhi. But it wasn't easy to meet travelers on the streets as the travel season was ending.
After wandering around the street for half an hour, I was able to meet a female traveler. The traveler, who asked for anonymity, chose "drugs" as one of the things that you should watch out for. She said, "I drank a drink called Bhang in Manali, and it was so close to disaster. I knew that a lot of people in Manali smoke marijuana, but I didn't know there was a drug drink. I drank one or two cups of the beverage that local people offered to me. I started to feel fuzzy and difficult to keep myself steady so I quickly went back to the lodge. My friend told me the next morning that the drink had a drug in it."
Bhang is a mixture of milk, honey and a hallucinogen called marijuana. Its use is implicitly accepted during the Hindu spring festival Holi.
According to the South Korean Embassy in India, there were five cases of drug-related robbery against Koreans in 2016.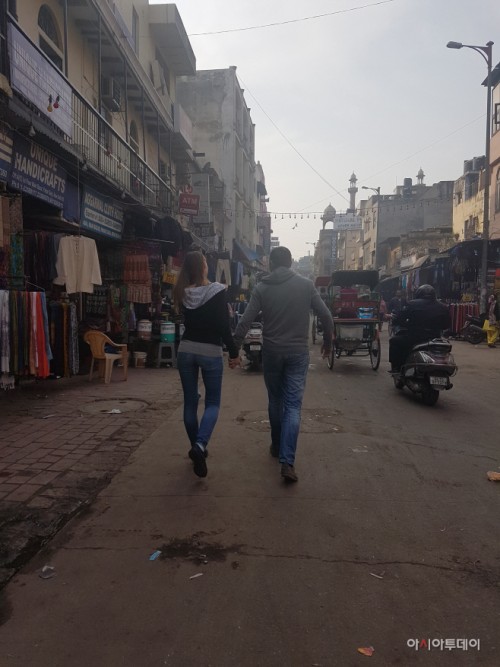 Foreign tourists are on the way in Paharganj, New Delhi, India./ Photographed by Jeong In-seo

Another female traveler picked "kindness" as a thing to watch out for. She said, "Many Indians are kind. However, you have be suspicious of too much kindness. When I traveled alone, many Indian men were overly kind. At first, I was grateful, but afterwards I found out they were doing this for something else. The man I met on the train to Varanasi recommended that I join him to the hotel for free. When I arrived at the lodge, it was totally deserted and I didn't like the place, so I tried to move to another place. But he became so angry. Fortunately, other tourists who were passing by helped me get out of the place. You have to be doubtful about overkindness."
Lee So-ra, 27, who is going back to Korea after a month of backpacking trips, had to undergo something terrible in Jodhpur, Rjasthan. She said, "I was walking alone. Then three Indian men touched some parts of my body and ran away. I was so shocked. I was very careful before travelling to India because I heard a lot about things you have be careful. But the moment I relaxed, a terrible thing occurred to me. India is a country where women are not easy to travel by themselves."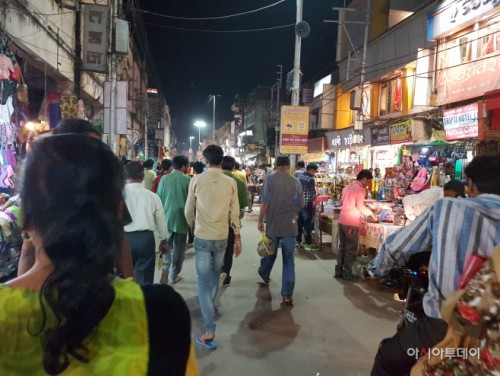 The night view of Varansi, Uttar Pradesh, India./ Photographed by Jeong In-seo

Last December, an American woman reported to the police that she had been sexually assaulted by five men, including her local tour guide, after drinking a bottle of water that the guide gave her in her hotel room in Delhi. In July, two men were arrested for raping an Israeli tourist in Manali.
Last year, a 22-year-old Japanese woman was raped by six men in eastern Kolkata. In 2016, five men were sentenced to life imprisonment for the gang-rape of a 52-year-old Danish tourist near a train station in New Delhi in 2014.