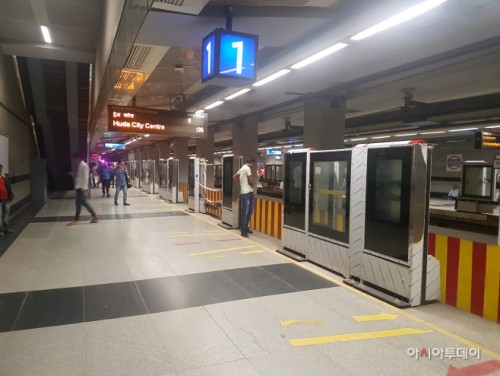 Platform screen doors are being installed at Central Secretariat metro station in New Delhi./ Photographed by Jeong In-seo

By Jeong In-seo, New Delhi correspondent, AsiaToday – The government of India is installing platform screen doors (PSDs) at New Delhi metro stations to maintain public order and prevent suicide attempts.
Firstly, the Delhi metro rail corporation (DMRC) is planning to install PSDs at six metro stations on the Yellow Line, one of the major lines of the Delhi Metro. The six stations, where PSDs will be installed, are Central Secretariat, Rajiv Chowk, New Delhi, Chawri Bazar, Chandni Chowk and Kashmere Gate. These are regions with one of the largest floating population in Delhi.
On March 11, I visited the six selected stations to listen to public opinion about whether screen doors could maintain order and prevent accidents.
The Central Secretariat metro station was crowded with many people. The screen doors installed along the track caught my sight. The construction was still underway, but it was enough to attract people's attention.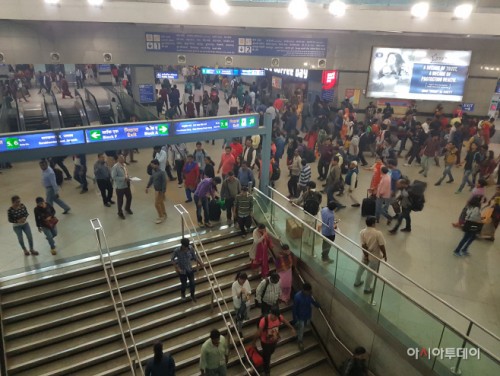 Rajiv Chowk and Central Secretariat metro stations were crowded with people./ Photographed by Jeong In-seo

Prateek Chandan, 42, said, "I think screen doors can keep people safe. Many people rush into metro trains arriving to station. The installation of screen doors can prevent accidents in advance. There are many cases of people jumping on metro tracks to commit suicide in Delhi, and screen doors can be a good preventive measure."
A citizen who asked for anonymity agreed that installing screen doors is the best way to prevent suicide attempts. He said, "Suicide doesn't take away the pain, it gives it to someone else. Metro drivers and those on the scene can be traumatized."
According to a DMRC data, about 80 people attempt suicide at metro stations every year. 70% of them are rescued by security personnel, while the remaining 30% are not. This year, 12 people had committed suicide and 21 attempts ended in failure.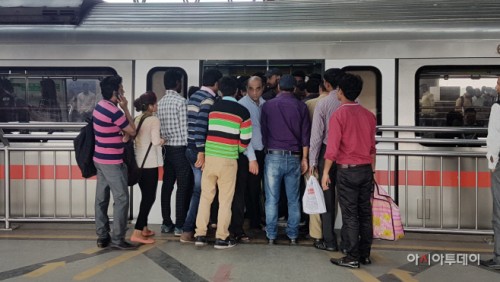 As the train arrived at the station and opened its door, passengers were tangled up with some trying to get in while others getting off./ Photographed by Jeong In-seo

Then I headed to Kashmir Gate. Lakshman, 41, agreed to install screen doors. He said, "I once missed my stop and got off at the next stop because people didn't keep order. I heard that screen doors are helpful in establishing public order. I believe screen doors along with public service ads can bring changes."
As Mr. Lakshman said, people didn't stand in line. And when the next train arrived, the passengers trying to get off and the passengers trying to get on the train got tangled, instantly making the train entrance a mess.
Next, I moved to nearby Rajiv Chowk. But I couldn't get off the train. It was virtually impossible to break through the crowd getting in. I had to get off at Patel Chowk and walk to the station.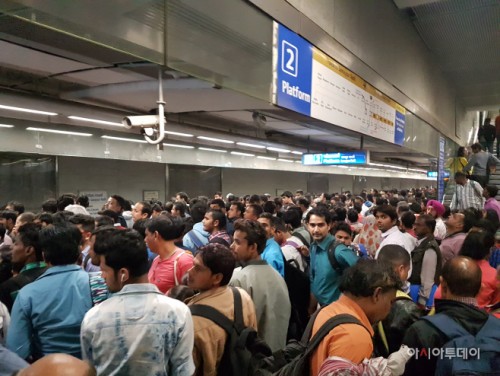 Rajiv Chowk is known for its large floating population./ Photographed by Jeong In-seo
Rajiv Chowk was already crowded with people. People were yelling and the passengers getting on and off were tangled. The guards were blowing the whistle to manage crowd, but it was useless. Nirmal, a subway security guard, said, "People tend to stand in line when we are in charge. But they rush in when the metro arrives. People don't follow control. I don't think screen doors can make difference."
Meanwhile, the DMRC said it would complete the installation of screen doors by the end of this month.