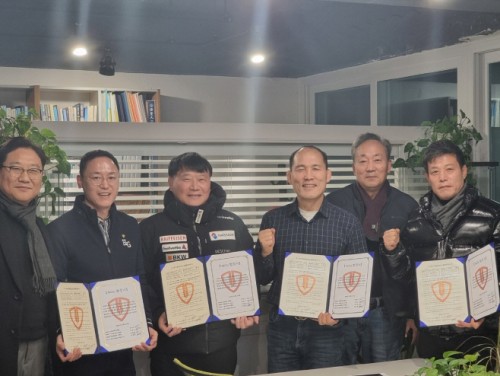 Tarasoft signed a business agreement with three South Korean judo legends to turn their legendary matches and scenes into NFT works in December of last year. (From left) Tarasoft Vice President Chun Ye-hyo, Tarasoft CEO Ahn Chae-myung, former Korea Racing Authority coach Lee Kyung-geun, Yongin University professor Ahn Byung-geun, Popular Culture Promotion Association Supporting Chairman Yoo Myung-jae, and Dong Seoul University professor Kim Jae-yeop pose for a commemorative photo./ Source: Tarasoft
AsiaToday reporter Ji Hwan-hyuk
The three legends who dominated the judo world in the 1980s are coming back in the form of a non-fungible token (NFT).
Tarasoft Inc. will release NFT works of legendary scenes of Olympic gold medalists - Yongin University professor Ahn Byung-geun, Popular Culture Promotion Association Supporting Chairman Yoo Myung-jae, and Dong Seoul University professor Kim Jae-yeop – in March.
In December last year, the software company signed a business agreement with the three judo stars for NFT development.
The three legends are seniors and juniors of middle and high schools in the Daegu region. They have teamed up to contribute to arousing interest in judo among the younger generation, who tend to avoid tough physical sports, and creating an atmosphere of doing volunteer work through pro bono work.
"We support the challenge of the three legendary judo players in the world of NFT works, the centerpiece of the digital era, and we expect a lot of interest from fans and readers," an official from Tarasoft said.
Tarasoft plans to turn the three legends' personal stories and their famous sports scenes into NFT works on a regular basis to give fans a gift of memories an hopes for young players. It also plans to expand NFT partnerships with domestic sports heroes and masters in other fields, such as music and art.
Meanwhile, Tarasoft is a software company specializing in the development of corporate business computing system, such as e-business cards, simple payment system, messenger service, delivery platform development, and gifticon service. Based on its own mainnet-based blockchain technology, it developed and supplied about 400 coins. Back in March, it completed TARA 2.0 and opened its own TARA NFT market platform. It focused on B2B market, and has turned to B2C market starting this year to explore markets at home and abroad.