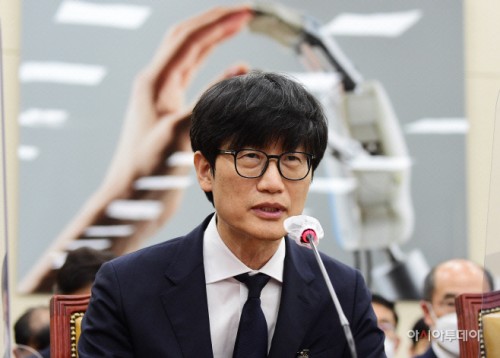 Lee Hae-jin, Founder and Global Investment Officer (GIO) of Naver Corporation, answers questions from lawmakers at the comprehensive audit of institutions by the Korea Communications Commission held at the National Assembly in Yeouido, Seoul, on Oct. 24, 2022./ Photographed by Lee Byung-hwa
◇ Is Naver founder Lee Hae-jin like a god in Korea?
"Media companies can choose how users view their news on Naver."
Naver founder Lee Hae-jin made the remarks during a parliamentary audit last year, and we are doubtful of Lee's perjury or ignorance of Naver news. Naver news has been decided by Naver. No one else has any choice.
Through the News Partnership Evaluation Committee, Naver categorizes Korea media into four levels: 'non-affiliated', 'news search partnership', 'news stand partnership' and 'news content partnership'. Among them, news from affiliated news content media are categorized as "in-links" while any other news are thrown away, not even searchable.
Naver's media 4-level grading system is like the 'media status' of the Joseon Dynasty. The subject who grants such status has absolute power. The 'will of the absolute' is often cited for the birth and maintenance of social status. Naver founder Lee Hae-jin was under intensive criticism from lawmakers when he attended a state audit as a witness in 2017.
"Naver is the god of the Republic of Korea, which controls the consciousness, thoughts, brains, culture and spirit of the people of the country," said Kim Kyung-jin, then the member of the People's Party. The reality of that god is Naver founder and owner Lee Hae-jin.
◇ Naver reigns over the media through media screening and 4-grade rating system
In the 4-grade partnership rating system, news is mostly consumed within portals such as Naver. So do 79.2 percent of news readers (as of 2021). Therefore, media companies tend to be self-conscious about Naver, making them impossible to provide in-depth and differentiated news like New York Times (NYT), an influential American daily newspaper with more than 9 million paid subscribers.
Naver's monopoly in the news market prevents the growth and independence of Korean media and the formation of diverse opinions. "It's like publishing Rodong Sinmun every day, where everyone sees the same news at the same time," Democratic Party's Rep. Kim Jong-min said.
This phenomenon is a disease of Korean society that cannot be found anywhere. "Independence from power and capital is the key to freedom of speech," People Power Party's Rep. Kim Young-sik said. "Among the Korean conglomerates, Naver and Kakao are the only companies that wield such a huge influence in shaping public opinion."
◇ Lee Hae-jin's contradictory remarks and unkept promise
We think of the contradictory remarks of Lee Hae-jin. Despite his remarks such as, "It is correct to judge media by quality rather than quantity, but it is a very difficult and fearful story," and "I'm very cautious," he did not give up the "power to reign over the media". He said he agrees with the "disclosure of the algorithm", but he did not carry it out. In particular, Naver's 'new growth strategy' runs counter to Lee Hae-jin's promise.
During a state audit last year, Lee said that Naver aims to increase the proportion of new technology and overseas sales, rather than the existing shopping malls and advertisement sector. "I believe the company's direction is to make profits by entering new markets with new technologies, rather than making more profits in existing areas." His remarks still remain as empty promise.
From. Entire employees of ASIATODAY
Nov. 22, 2022