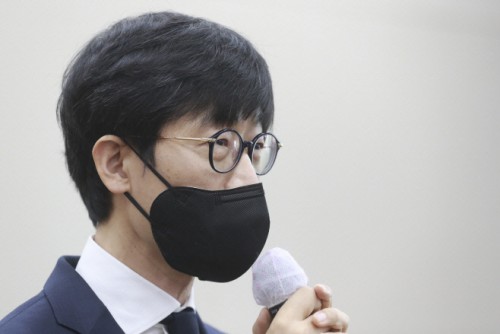 Lee Hae-jin, Founder and Global Investment Officer (GIO) of Naver Corporation, answers questions from lawmakers at the comprehensive audit of institutions by the Korea Communications Commission held at the National Assembly in Yeouido, Seoul, on Oct. 21, 2022./ Source: Yonhap News
Civil societies and media outlets, including the National Audit NGO Monitoring Group, the Journalists Association of Korea (JAK), and Federation of Professional Economic person Societies, as well as general readers are expressing their sympathy for the 'Make Naver Right' national movement. Led by AsiaToday, a comprehensive daily newspaper with the 17th anniversary of its founding, the movement is gradually gaining national support and strength. With multiple stories from different readers, we come to realize the reason why Naver should stand upright.
◇ JAK: "We condemn portals' discrimination against media outlets, rating, division and destruction of ecosystem"
The JAK, the country's largest organization of journalists with nearly 11,000 incumbent journalists, has issued a statement critical of the harmful effects of portals such as Naver. The statement pointed out that portals discriminated media companies based on their own standard, and caused competition and division among media companies, leading to a crisis in journalism. If healthy competition and development of media is hindered, the media ecosystem will be destroyed. Naver and other portals' dominance of media companies can be seen as the class system of the 21st century and mobocracy.
Democratic Party lawmaker Kim Jong-min lamented that the news market is collapsing, with 69 percent of domestic news consumption channels being portals, and only 5% through media websites and webs, leading to a drop in news credibility to 30 percent. He criticized that Naver and other portals providing the same news at the same time is like issuing Rodong Sinmun, the sole official daily newspaper in North Korea.
◇ National Audit NGO Monitoring Group: "Naver reigns above the media"
The National Audit NGO Monitoring Group, a solidarity between university student volunteers and civic and social groups with 24 years of history, also criticized portals. It has been led by the Law Consumers Federation, the country's largest and most authoritative law-related civic organization. "Naver secures a huge number of subscribers through the function of a media portal, and exercised administrative power beyond the business realm," it said.
The civic group expressed great concern over the fact that Naver was evaluating Korean media companies by grading them in four stages – 'non-affiliated', 'news search partnership', 'news stand partnership' and 'news content partnership' – through its controversial 'News Partnership Evaluation Committee'. Opportunities to connect with readers are also divided into four levels.
The monitoring group said Naver's media rating review and monopoly of public opinion can influence public opinion, lamenting that the monopoly of certain companies in a country with advanced information and communication technology is 'shameful and dangerous.'
◇ Federation of Professional Economic person Societies: "Naver hurting local businesses"
The Federation of Professional Economic person Societies, which consists of 54 small and medium-sized business associations, said, "Naver has shown unreasonable and unfair behavior toward professional organizations and small- and medium-sized businesses for a long time, and nothing has changed. Its promise of win-win growth with small and medium-sized businesses through the Fair Trade Commission's consent resolution was just a word, and the collapse of local businesses intensified."
People Power Party's Choi Seung-jae, a former chairman of the Federation of Small Businesses, raised suspicions about Naver, the first beneficiary of the consent and resolution system, during the parliamentary audit by the National Assembly's Political Affairs Committee. He doubted that Naver might have used 28.3 billion won to be originally used for victims' relief. This is why Rep. Choi demanded Naver founder Lee Hae-jin be adopted as a witness for the state audit.
◇ The struggle of AsiaToday against Naver continues
AsiaToday will continue this struggle to repay the people who have supported us for the past 17 years with an ultimate goal of national development, people's happiness, and freedom of speech and development. As it was 9 years ago, your interest and support completes the meaning of this struggle. We look forward to the difficulties and injustice caused by Naver, as well as related information and reports.
From. Entire employees of ASIATODAY
Oct. 25, 2022