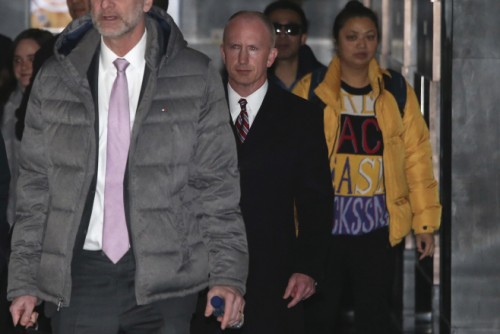 China and the United States wrapped up their vice ministerial level trade talks that lasted longer than expected, showing a sign of optimism. The photo shows Deputy U.S. Trade Representative Jeffrey Gerrish leaving hotel to attend a meeting with the Chinese side on Jan. 8./ Source: Beijing AP=Yonhap News
By AsiaToday Washington correspondent Ha Man-joo & reporter Lee Min-young
China and the United States wrapped up their vice ministerial level trade talks that lasted longer than expected, showing a sign of optimism. In particular, the Chinese government issued approvals for the import of genetically modified (GM) agricultural products of foreign companies, including U.S. companies, adding its weight to the situation.
Ted McKinney, U.S. Under Secretary of Agriculture for Trade and Foreign Agricultural Affairs, told reporters at the Westin Hotel in Beijing that the U.S. trade delegation would return to the United States after ending talks with China. "It's been a good few days," he said. "I think they went just fine. It's been a good one for us," he said without elaborating.
The official announcement of the outcome of the negotiations has yet to be made. But the U.S. delegation made a positive statement, which analysts believe both sides have reached at least a partial agreement. Following the vice ministerial level talks, U.S. Trade Representative Robert Lighthizer is expected to meet China's Vice Premier Liu He to finalize negotiations in Washington DC, later this month. Amid ongoing talks to resolve the trade war, China approved GM crops for import on Tuesday.
The state-run China Daily reported Wednesday the Ministry of Agriculture and Rural Affairs approved five new GM crops, including soybeans and corn. Monsanto Co, Dow Chemical and DuPont, and BASF are among the companies that sell GM agricultural products. China's approval is first of its kind in the last 18 months in a move that could boost its overseas crops purchases.
China has been very passive in importing GM crops, while the United States has continued to urge China to deregulate. The United States is the world's biggest producer of GM crops, while China is the biggest buyer. China's approval is widely seen as a goodwill gesture towards the resolution of the trade issue.