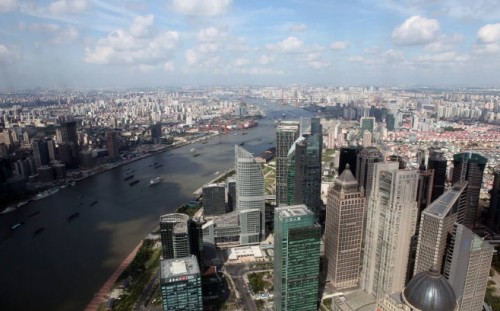 Buildings in Shanghai, economic capital of China/ Source: search engine Baidu
By Hong Soon-do, Beijing correspondent, AsiaToday
China's economy is not in a good state due to the trade war with the United States. But on the surface, China is caught up in a festive mood. It is because Tuesday marks the 40th anniversary the country's "reform and opening-up", initiated by former leader Deng Xiaoping at the 3rd Plenum of the 11th Central Committee in 1978.
We see it as looking at various events reported by state-run media entities, including the People's Daily. One of the examples is "Our 40 Years", a grand gala in celebration of the 40th anniversary of China's reform and opening-up, held on Friday at the Great Hall of the People in Beijing, with Chinese President Xi Jinping and other state leaders in attendance. Large exhibitions held at the National Museum of China in celebration of the 40th anniversary of the reform and opening-up, as well as documentaries broadcasted by state-media outlets are in the same vein. They are all bright stories looking forward to China's rosy future.
China's state news agency Xinhua reported Sunday that Xi Jinping will attend a conference celebrating the 40th anniversary of the country's reform and opening-up scheduled for Tuesday morning in Beijing. Xi will declare that China will go for a thorough reform and opening-up while showing China's confidence as a great power during his speech to be delivered at the Great Hall of the People at 10 am on Dec. 18.
Comparing today's China to 40 years ago, its confidence is fully understandable. China's share of GDP was 1.8 percent in 1978, but the number has risen to 15.2 percent now. Some nationalist economists praise such achievement as the "return of the dragon."
In 1978, China' per capital GDP was less than US$60. This year, the corresponding figure is expected to be US$9,400. This means during these 40 years, China's per capita GDP increased by 156 times. Other statistics show that China's per capita disposable income grew by nearly 30 times in 40 years, and that 120 of the global Fortune 500 companies are Chinese.
But where there is light, there must be shadow. Many problems have been accumulated over the past 40 years. Above all, China is facing a serious wealth gap. Its Gini coefficient, 1 a widely used measure of income dispersion across a population, is estimated to have already exceeded 0.5, which poses the possibility of ushering in social unrest.
China's growing debt is a major concern for the slowing down of its economy. There is a pessimistic observation that its debt-to-GDP has ballooned to more than 300 percent. China's economic achievement of the last four decades will be inevitably overshadowed by its excessive overproduction, the insignificant reform of state-run companies, and the real estate bubble. China should listen carefully to professor 'H' from a Chinese university of political science, who said, "The Chinese economy is now suffering with adult diseases. If not treated properly, it will get worse. It's not the time to open a champagne bottle."