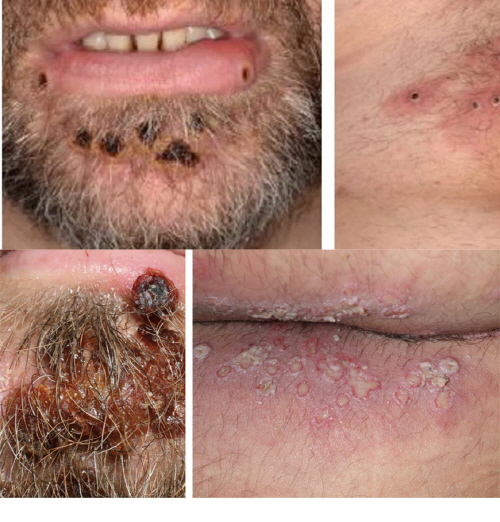 An image of a patient infected with monkeypox / Source: Korea Science Journalists Association (KSJA)
AsiaToday reporter Park Ah-ram
South Korea raised the alert level for monkeypox after confirming its first case on Wednesday.
The Korea Disease Control and Prevention Agency (KDCA) said Wednesday the patient, who arrived in South Korea on Tuesday, has tested positive for the virus in a test result.
The patient arrived at Incheon Airport from Germany at 4 p.m., according to the health authorities. The person reportedly had a headache two days before departing and showed symptoms of mild fever, sore throat, lethargy and skin lesions when arriving in South Korea.
They said the person voluntarily reported a possible infection after arriving at the airport, and was classified as suspected case of monkeypox by the Airport Quarantine Office an the central epidemiologist. Then the patient was transferred to Incheon Medical Center for treatment after being isolated at an airport quarantine facility.
The KDCA raised the monkeypox risk level from "attention" to "caution" in a crisis assessment meeting on Wednesday. Accordingly, the current monkeypox response team will be upgraded to the Central Quarantine Countermeasures Headquarters to strengthen multi-ministerial cooperation system. In addition, all the cities, counties and districts of the cities and provinces with confirmed cases will operate a regional response team to operate emergency quarantine system.
The country will strengthen the monitoring of a potential inflow of monkeypox. The health authorities will designate regions for monitoring for monkeypox in the second half of the year, and strengthen its monitoring of a potential inflow of the virus by strengthening fever standards in countries which reported confirmed cases of monkeypox.
In addition, the country will strengthen the guidance on the use of text messages and quarantine information pre-entry system for inbound an outbound travelers, to encourage self-reporting of health conditions among inbound travelers.
Among those who have been exposed to monkeypox virus through physical contact with confirmed patients, those with medium or high risks will be allowed to receive vaccination under their consent.