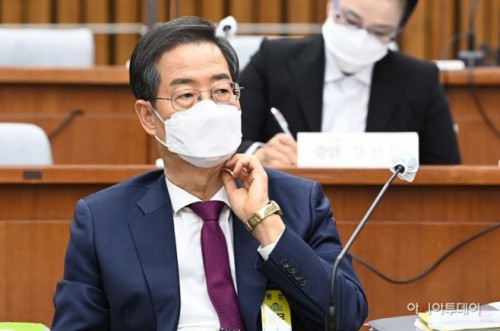 Prime Minister nominee Han Duk-soo listens to a witness' answer during his confirmation hearing at the National Assembly in Seoul on May 3, 2022./ Source: Joint Press Corps
AsiaToday reporter Jeong Geum-min
The ruling Democratic Party (DP) is facing a dilemma over appointment approval of prime minister nominee Han Duk-soo. As the approval of the prime minister nominee can influence public sentiment in the upcoming local elections, a backlash from the supporters is expected no matter what choice is made.
The DP insisted to declare Han as "unqualified" for a prime minister, demanding to withdraw appointments of some Cabinet members. "It is difficult to agree with the unreasonable demands of the People Power Party, which is insisting to approve Han's appointment," said DP floor leader Park Hong-keun at a policy coordination meeting held at the National Assembly on Thursday. "A decision on Han's approval will be made at a general meeting of the National Assembly based on the results of the hearing and public sentiment."
With President Yoon Suk-yeol pushing for the appointment of ministers, it seems the ruling party has no reason to push forward an approval of the prime minister nominee. Cabinet appointments are subject to hearings but do not need parliamentary approval to take their posts, but prime minister is the only Cabinet post that requires parliamentary approval.
However, it feels pressure that if the bill to approve the first prime minister candidate is rejected, it could suffer from backlash in the June 1 local elections. Since Han is born in Jeonju, North Jeolla Province, and is a figure from the democratic government, many supporters are in favor of him. It may lose votes from Honam region, the traditional support base of the ruling DP.
"The public say the prime minister nominee should be approved," Cho Eung-cheon, a member of the DP's emergency committee, said in a MBC radio show. "I'm concerned that the hawks (hard-liners) beat the doves (moderate ones)," Cho said.
The fact that the DP's general assembly, which was initially scheduled to be held on Thursday, was not held proves the leadership's dilemma. If the general assembly is held in a situation where the leadership policy is not set, it may be dragged by hard-liners.
Even if the DP approves Han's appointment, it is likely to leave a huge blow to the party since there is virtually no way to remove Justice Minister nominee Han Dong-hoon, a close aide to President Yoon. In this case, it could face harsh criticism from hard-line supporters.
The main opposition People Power Party (PPP) is pressing for the approval of Han, a key button in the launch of the Yoon administration. "If the ruling and opposition parties fail to reach an agreement, National Assembly Speaker Park Byeong-seug should appoint the prime minister," said PPP floor leader Kweon Seong-dong at the National Assembly.