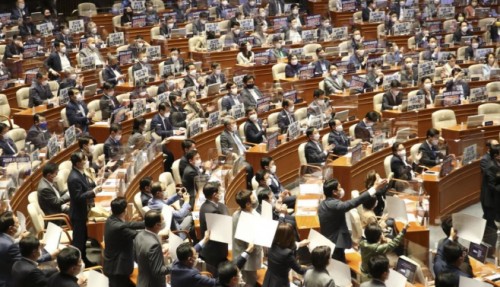 The ruling Democratic Party (DP) lawmakers applaud as the revision of the Prosecutor's Office Act passed amid protests from the main opposition People Power Party lawmakers, at the National Assembly plenary session on April 30, 2022./ Source: Joint Press Corps
AsiaToday reporters Kim Hyun-goo & Lee Sun-young
As the ruling Democratic Party (DP) has pushed to deprive the prosecution of its investigative powers as part of efforts to reform the powerful law enforcement party, 'legislative resistance' from the legal community, academia and civil society organizations is growing stronger.
Some groups said they would file a constitutional appeal if the prosecution reform bills are approved, and some launched filibusters, while some complaints have been submitted to the National Human Rights Commission of Korea. More than 100,000 people have signed an online petition, filed on the website of the presidential office of Cheong Wa Dae, demanding dissolution of the National Assembly.
According to the legal community on Monday, the Lawyers for Human Rights and Unification of Korea (LHUK) and the Constitutional Law Advocates (CLA) said they will file a constitutional complaint if the National Assembly approves the remaining prosecution reform bill on Tuesday.
They claim that it is against the Constitution to reduce the scope of the prosecution's investigative power, to separate prosecution's powers to indict suspects and its powers to conduct investigations, and to have the Prosecutor General report the current state of investigations on specific crimes to the National Assembly.
They argue that the basic rights of the people may be undermined by the incapacity of the warrant request system and investigative power. They plan to receive the signatures of more than 10,000 people and submit them to the Constitutional Court.
The Professors' Solidarity for Freedom & Justice (PFJ), which is consisted of some 6,000 former and incumbent professors from 377 universities across the country, also plans to file an unconstitutionality suit upon the bill's approval.
On April 29, the main opposition People Power Party (PPP) filed for an injunction with the Constitutional Court against the legislation, claiming procedural errors in the DP's earlier passage of the bills through the judiciary committee. The Supreme Prosecutor's Office is reviewing a request for a dispute over authority after the law is promulgated.
The Korean Bar Association, the country's largest bar association, has been continuing its filibuster since April 28. Speakers on the day were Lee Young-poong, head of the KBS Labor Union's Policy and Fair Broadcasting Department, and Kim Tae-hoon, honorary chairman of LHUK.
The Human Rights Commission of Korea received complaints. "Depriving the complainant of the right to object constitutes discrimination without reasonable grounds to conceal the crimes of corrupt politicians and public officials," The Solidarity for Restoring the Rule of Law, a civic group, said.
"By not being able to appeal the prosecutor's non-indictment or apply for a financial judgment, it clearly violates basic rights such as the right to request a trial and equal rights. If an accuser is unable to file an objection, cases such as the assault of a tax driver by former deputy justice minister Lee Yong-gu will be buried forever," it added.