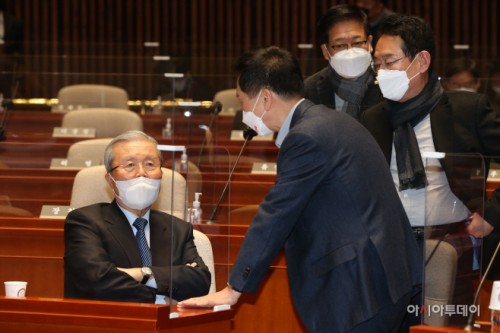 Kim Chong-in, chief of the People Power Party presidential election campaign committee, and the party's floor leader, Rep. Kim Gi-hyeon, make a conversation at a party meeting at the National Assembly in Seoul on Jan. 3, 2022./ Photographed by Lee Byung-hwa
AsiaToday reporter Lee Wook-jae
The leadership of the main opposition People Power Party's (PPP) presidential election campaign committee on Monday offered their resignation to the party's presidential nominee Yoon Suk-yeol to demonstrate their commitment to overhauling the campaign amid declining support for the candidate and internal feuds. As a result, a major reshuffle of the party's election committee seems inevitable.
The PPP election committee announced that all senior members of the committee, including all the standing chairs, co-chairs, heads of divisions and the chairman of the Saesidae Preparatory Committee offered their resignation to Yoon.
Campaign chief Kim Chong-in, election committee standing co-chairman Kim Byung-joon, Saesidae committee chairman Kim Han-gil and other senior officials of the election committee offered to leave their positions. Yoon is expected to reshuffle the personnel of the committee. Kim Chong-in and some other personnel who are in charge of the election committee are expected to be reappointed to carry out a reform of the committee.
Earlier in the day, Kim Chong-in previewed the changes, saying there will be an "overall reform" of the committee. After that, floor leader Rep. Kim Gi-hyeon expressed his resignation as floor leader at the general meeting of the Assembly members to take responsibility for factional feuding.
"It is my fault, not someone else's. I made up my mind to renew myself as the floor leader. I will step down from the positions," Rep. Kim said.
"This is the time to show that the party is working hard to change itself. To win the presidential election, I will work hard to live up to public sentiment," Rep. Kim said.
PPP chief policymaker Rep. Kim Do-eup and deputy floor leader Choo Kyung-ho also offered to step down later in the day.
Shin Ji-ye, a feminist politician who joined Yoon's campaign as senior deputy chair of the Saesidae committee, also announced her departure. She made clear that she faced internal resistance, especially from PPP Chairman Lee, and received blame for Yoon's falling support. Saesidae committee chairman Kim Han-gil, who led Shin's recruitment, said, "I feel responsible for the reality of not being able to overcome the misunderstanding that has been put."
Kim Chong-in and others have expressed their resignation, but Yoon is considering reappointing them. Political observers believe that Yoon would reappoint Kim Choing-in to restructure the election committee.