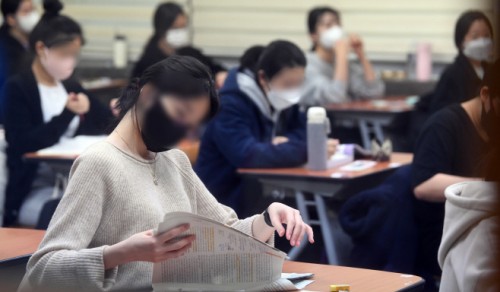 Students wait to take the annual College Scholastic Ability Test (CSAT), a nationwide university entrance exam, amid pandemic, at a school in Seoul, on November 18, 2021./ Source: Yonhap
AsiaToday reporter Lee Seung-wook
South Kore's national college entrance exam, known as "Suneung," or the College Scholastic Ability Test (CSAT), took place on Thursday. It was the second exam taken amid the pandemic. Experts say the difficulty level of this year's Korean language tests was generally similar to the last year's suneung, while the math and English tests were relatively difficult, making this year's exam difficult in general.
With daily COVID-19 cases staying at around 3,000, the number of students who missed the test this year was slightly lower than last year, when the first pandemic-era exams took place.
This year, 452,222 high school seniors and other exam takers, or 89.2 percent of those signed up to take the test, nationwide sat down to take the test this year, according to the Ministry of Education. A total of 54,907 exam takers, or 10.8 percent, were absent.
The number of absentees decreased by 2.4 percentage points compared to last year's exam, where 86.6 percent of exam takers actually went to take the test. Last year, the rate of absentees stood at 13.2 percent.
Those who tested positive for the virus or who had to be separated from others took the test at hospitals or separate exam centers.
The interest in examination question trends and difficulty level of the exam was greater than ever, as this year's exam was held for the first time since the 'revised curriculum 2015' that integrates liberal arts and sciences, has been applied.
The CSAT Examination Headquarters revealed that this year's exam questions were focused on improving school education and balancing the difficulty of each subject in relation to the tendency and difficulty of the exam.
"The questions were based on the key and basic contents of the curriculum to help improve school education," said Wee Soo-min, chair of the CSAT Examination Headquarters.
"Although there have been changes in the CSAT system, we tried to keep the standard of questions asked in previous years," Wee said.
Many entrance exam experts said the difficult level of the subject of Korean language was similar to last year's, and the questions were given at a rather plain level compared to the simulation evaluations held back in June and September. Math and English were relatively difficult, according to the experts.
"The Korean language was slightly easier than last year's exam and the June simulation test, but slightly difficult than the September simulation exam," said Woo Yeon-cheol, director of Jinhaksa's entrance examination strategy research institute.
"For Math, they raised the difficulty level of common subjects, and maintained the same level for calculus among the electives as the simulation exams in order to minimize disadvantages between elective subjects," said Kim Byung-jin, a chief research director at Etoos Academy.