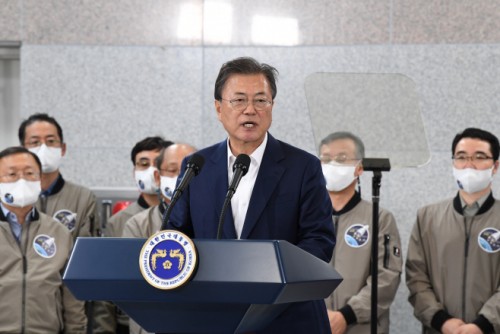 President Moon Jae-in delivers a speech to the public after witnessing the launch at the Naro Space Center on Oct. 21, 2021./ Source: Yonhap
AsiaToday reporter Lee Jang-won
South Korean President Moon Jae-in said Thursday that South Korea's first homebuilt space rocket Nuri-ho completed all flight sequences as scheduled. "Regrettably, we failed to perfectly reach the goal, but we made a very creditable achievement in the first launch," Moon said in his speech to the public.
Moon announced the results of the rocket launch at the Naro Space Center in Goheung, on the southwestern tip of South Korea. "Stably putting a dummy satellite into orbit remains an unfinished task," he added.
However, Moon said he was proud of the launch, saying, "Lifting a launch vehicle to an altitude of 700 kilometers is a great feat in itself and made us inch closer to space," the president said.
The president said that all flight sequences were completed without any setbacks, including taking-off from the launching control center, igniting the engine twice in the air, separating the rocket, and separating pairing and dummy satellite. Moon said these technologies were completely homegrown.
"The rocket engine of the Nuri has endured high pressure and stably burned fuel in a flame of 3,300 degrees Celsius and a cryogenic temperature of -183 degrees Celsius," he said. "It's not long before we will be able to launch it exactly into the target trajectory," he said.
"By making up for shortcomings shown today, the second launch in May next year will surely achieve perfect success," Moon said.
"We have come this far 12 years since the beginning of the Nuri-ho development project," he said. "We are just one step short of reaching our goal."
"I would like to express my sincere respect and encouragement to the Korea Aerospace Research Institute and the academia, as well as over 300 researchers, workers and entrepreneurs who have been dedicated to research and development with challenge spirit and patience," Moon said.