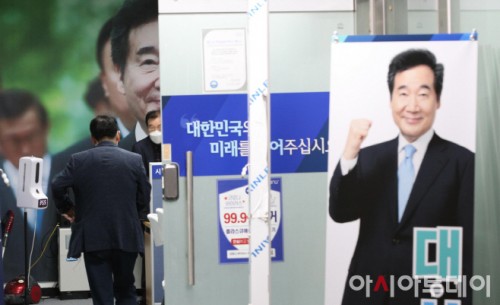 The photo shows the entrance of the office of former Prime Minister Lee Nak-yon's camp in Seoul on Oct. 13, 2021./ Photographed by Lee Byung-hwa
AsiaToday reporter Jeong Geum-min
Former Prime Minister Lee Nak-yon conceded defeat in the ruling Democratic Party (DP)'s presidential primary on Wednesday.
Lee Nak-yon posted a concession message on his Facebook page shortly after the party's top decision-making body rejected his appeal of the primary results. "I respect the decision of the party affairs committee, although the issue of counting votes for dropouts remains to be addressed," he wrote. "I will think carefully about what I can do to help the Democratic Party overcome the challenges it faces, win the people's trust and regain power. I will add whatever little strength I can." As a result, the conflict over the primary results has ended three days after the nomination went to Gyeonggi Gov. Lee Jae-myung on Sunday.
Earlier, the DP held a meeting of the party affairs committee at the National Assembly and decided to reject Lee's request not to exclude ballots that were cast to contenders who withdrew their primary bids from the total vote count.
"The committee agreed to uphold the decision of the party's election management committee and Supreme Council regarding the rule in question," DP spokesperson Rep. Koh Young-jin said after the meeting.
According to Clause 1 of Article 59 of the special party regulations for a primary, "votes cast for the candidate become invalid when a candidate resigns in the middle of the primary." Article 60 stipulates that whoever wins a majority of the total valid votes is selected as the presidential candidate. The party's election management committee had previously said that votes for dropouts should be nullified in accordance with the special party regulations.
However, Lee Nak-yon's campaign insisted that the ballots cast for Chung Sye-kyun and Kim Doo-gwan, who withdrew in the middle of the primary election, should not be invalidated, pointing out that Lee Jae-myung's vote share would have dropped to 49.32 percent if ballots cast for Chung and Kim before their withdrawal had been included in the final vote count.
It is said that 14 participants had a fierce debate in the meeting over how to interpret the party regulations.
"The committee saw the rejection as the right decision to take a step toward unity ahead of the presidential elections, although there were various opinions," a local government chief said in a phone interview with AsiaToday.
"Some lawmakers from Lee's campaign, including lawmaker Park Gwang-on, raised objections while others argued that the committee should respect the election management committee's interpretation," a Supreme Member of the committee who attended the meeting said in another phone interview with AsiaToday. "The committee eventually agreed to revise the party rule to prevent further disputes."