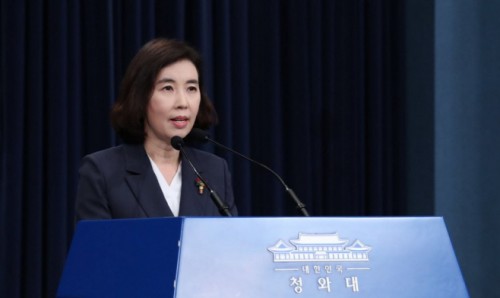 Cheong Wa Dae spokesperson Park Kyung-mee speaks at a briefing room in Cheong Wa Dae in Seoul on Oct. 12, 2021./ Source: Yonhap News
AsiaToday reporter Jeong Geum-min
President Moon Jae-in on Tuesday ordered a thorough probe into the controversial Daejang-dong land development corruption scandal involving Gyeonggi Governor Lee Jae-myung. Attention is now focused on the background of the president's order as it may have an impact on the ruling Democratic Party (DP) amid former Prime Minister Lee Nak-yon's call for a runoff election.
Cheong Wa Dae spokesperson Park Kyung-mee told reporters Moon ordered the prosecution and the police to "actively cooperate and put all of their efforts into finding the factual truth through a swift and thorough investigation."
Some claim that there is definitely a mood change in Cheong Wa Dae as Moon directly mentioned the controversial Daejang-dong scandal. This is the first time Moon has commented on the scandal. Last week, Cheong Wa Dae said it was following the revelations sternly but declined to elaborate. The president's latest move is seemingly intended to stop the dispute between the ruling party presidential candidates as the party's primary is now over.
However, since Governor Lee's rival Lee Nak-yon has mentioned that the Daejang-dong scandal may affect the presidential election, some believe that Moon's latest instruction is intended to show support for former PM Lee.
"Moon's message may differ depending on each individual's viewpoint," an official from Lee Nak-yon's camp told AsiaToday in a phone interview. "However, he did not make such message during the party's primary. Therefore, it would have little impact on Gov. Lee."
Some point out that Moon was taking into account the public criticism toward the snowballing Daejang-dong scandal. It is speculated that Cheong Wa Dae must have experienced the tide was turning as Governor Lee shockingly lost to former PM Lee in the DP's third round of primary voting open to the general public.
Others claim that Moon was trying to express his position in some way ahead of a meeting with Gov. Lee, who was chosen as DP's presidential candidate.
A key Cheong Wa Dae official told reporters that the governor recently requested a meeting with Moon, and the two sides would discuss the request.
As Cheong Wa Dae made public Lee's request for a meeting, Moon and Gov. Lee are expected to meet soon. If a meeting takes place, attention is paid to whether there will be any discussion of the Daejang-dong scandal.
Meanwhile, the main opposition People Power Party (PPP) urged the president to accept its request for a special counsel investigation into the case.