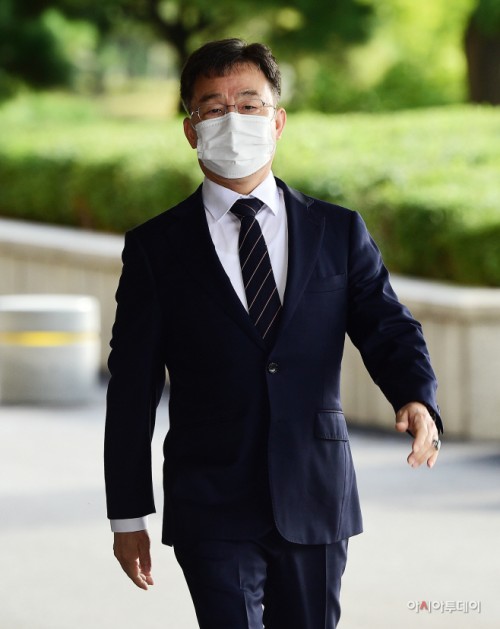 Kim Man-bae, the largest shareholder of the controversial asset management firm Hwacheon Daeyu, arrives at the Seoul Central District Prosecutors' Office on Oct. 11, 2021, for questioning./ Photographed by Lee Byung-hwa (photolbh@)
AsiaToday reporter Kim Hyun-goo
Prosecutors on Monday questioned Kim Man-bae, the largest shareholder of an asset management firm at the center of the controversial regional development corruption scandal over allegations that his firm received massive business favors in exchange for bribes.
The investigation team is speeding up the probe surrounding the Daejang-dong project by conducting an intensive investigation on Kim following an 10-hour intensive investigation Sunday on Yoo Dong-gyu, former acting president of Seongnam Development Corporation (SDC), and lawyer Jeong Min-yong.
Kim denied any wrongdoing upon arriving at the Seoul Central District Prosecutors' Office for questioning on Monday, claiming he is the real owner of Cheonghwa Dongin No. 1 and arguing the allegations against him have been wrongfully raised by one of his business partners at odds over how profits should be divided.
Earlier, accountant Jeong Young-hak, the owner of Cheonhwa Dongin No. 5, submitted recordings related to the Daejang-dong project while lawyer Jeong Min-young submitted related transcripts to the prosecution. Lawyer Jeong, who is known as an aide to Yoo, had worked as the head of the investment project team under SDC and participated as an evaluator in selecting a private company for the Daejang-dong project.
The recordings of conversations between Yoo and Kim, submitted by accountant Jeong, reportedly reveal that Kim agreed to give a cut of the profits amounting to 70 billion won and that Kim mentioned half of Cheonhwa Dongin No. 1 is owned by 'him'. Besides, lawyer Jeong's transcripts reportedly reveal that Yoo was promised to receive 70 billion won from Kim and that he claimed several times that he is the owner of Cheonhwa Dongin No. 1.
However, as Kim made a claim that contradicts their claims, suspicions are growing surrounding the real owner of Cheonhwa Dong-in No. 1, who received the largest dividend of 120 billion won through the Daejang-dong project.
Yoo was the person in charge of the public sector in the Daejang-dong project. If Yoo is confirmed to be the real owner, as is known through the recordings or transcripts, he would be strongly suspected of providing preferential treatment to Hwacheon Daeyu and related firms to gain massive profits.
Some argue that Cheonhwa Dongin No. 1 is owned by someone else, as many influential figures in the political and legal circles are involved in the scandal. In this case, the prosecutors may expand their investigation aimed at 'above'.
The investigation team is reportedly focusing on finding out the real owner's identity and the truth of the recordings and transcripts submitted to them.
Attention is also focused on whether Kim will be arrested or not. Many inside and outside the legal circle say that the investigation team is highly likely to request an arrest warrant for Kim. This is because Yoo has been arrested on charges of accepting bribes worth of 500 million won from Kim. Therefore, charges of bribery could be applied to Kim.