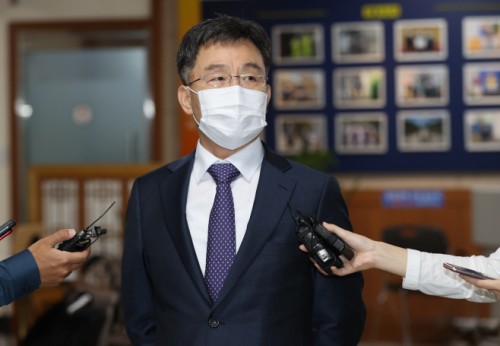 Kim Man-bae, the largest shareholder of Hwacheon Daeyu, speaks to reporters at Yongsan Police Station in Seoul on Sept. 27, 2021, after undergoing an interrogation over a controversy surrounding a land development project in Daejang-dong of Seongnam city, Gyeonggi Province./ Source: Yonhap
AsiaToday reporter Kim Hyun-goo
Prosecutors, who are speeding up the investigation into the controversial land development scandal, are expected to summon Kim Man-bae, the largest shareholder of Hwacheon Daeyu.
Attention is now focused on whether the prosecutors will be able to take one step closer to clarifying the truth of the Daejang-dong scandal through the investigation on Kim, who is suspected of handing over hundreds of millions of won to Yoo Dong-gyu, a former acting president of Seongnam Development Corporation and a close aide to Gyeonggi Governor Lee Jae-myung, and setting up an advisory group made up of prominent legal figures as a shield.
According to the legal community on Tuesday, the investigation team dedicated to the Daejang-dong land development case arrested Yoo Dong-gyu on Sunday over charges of receiving bribes worth 800 million won and causing losses to the Seongnam Development Corporation by granting favors to Hwacheon Daeyu.
Seongnam Garden, a consortium established by Seongnam Development Corporation and Hwacheon Daeyu, paid out 590.3 billion won to all shareholders over three years from 2019. Seongnam Development Corporation, which owns 50 percent stake in the project, received a dividend of 182.2 billion won. However, Hwacheon Daeyu and its affiliates Cheonhwa Dongin No. 1 to No. 7 received a dividend of 404 billion won with a mere 7 percent stake.
Of these, Hwacheon Daeyu, owned by Kim, received 57.7 billion won and Cheonhwa Dongin No. 2 and No. 3, which are owned by Kim's wife and sister, received 10.1 billion won each. In particular, Hwacheon Daeyu's profits from the Daejang-dong project are likely to increase further as it is known to have raised 235 billion won for pre-selling apartments in Daejang-dong.
The investigation team believes that Yoo received a request from Kim in 2015 and gave preferential treatment to Hwacheon Daeyu in the process of selecting a business operator and designing the business structure for the Daejang-dong project. Yoo received 500 million won from Kim in January, and the prosecution believes that this is part of the 25 percent of the development profit Kim agreed to give to Yoo, which is equivalent to 70 billion won. The investigation team is said to have included the details in the arrest warrant for Yoo.
The legal community believes that an investigation into Kim is inevitable. As both Kim and Yoo are denying the allegations, the investigation team is expected to summon Kim for investigation after securing Yoo's mobile phone that disappeared and conducting additional investigation into Seongnam Development Corporation and Hwacheon Daeyu officials.
In addition, the investigation team is expected to continue the investigation into Hwacheon Daeyu's advisory group, which consists of prominent legal figures such as former Supreme Court Justice Kwon Soon-il and former Prosecutor General Kim Soo-nam. Within the legal circle, many believe that Kim, acknowledging that there are illegal elements in the Daejang-dong project, tried to solve legal problems by recruiting influential political and legal figures.