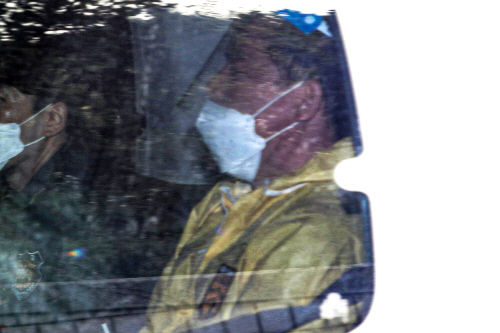 Yoo Dong-gyu, former acting president of Seongnam Development Corp., sits in a vehicle heading to Seoul Detention Center, Sunday, after the Seoul Central District Court issued an arrest warrant on charges of breach of trust and bribery in connection with a land development project in Seongnam, Gyeonggi Province./ Source: Yonhap
AsiaToday reporter Kim Hyun-goo
A mobile phone of a key figure in the snowballing land development scandal in Seongnam, south of Seoul, m is gaining attention.
The prosecution is speeding up the investigation by arresting Yoo Dong-gyu, former acting president of Seongnam Development Corp., but has not found Yoo's mobile phone, which is considered key evidence. Observers say that the phone, which was known to have been thrown away by Yoo, could play a key role in solving suspicions as it can be present in a third place.
Many within and outside the legal circle believe that securing Yoo's phone is the most urgent to find out the truth. Considering the fact that the recordings of conversations between Yoo and Hwacheon Daeyu owner Kim Man-bae, which were provided by accountant Jeong Young-hak, worked as a catalyst in the prosecution's investigation, Yoo's smartphone is highly likely to provide key evidence.
Both Jeong and Yoo are considered to have played an important role in designing the profit distribution arrangements in a way that benefits Hwacheon Daeyu. In particular, Yoo has been named as a key figure in making the private asset management firm collect huge profits from the controversial land development project in Seongnam's Daejang district launched in 2015.
Some observers claim that Yoo's smartphone may contain more evidence than Jeong's recordings. Above all, the fact that Yoo hid his phone even while accepting his arrest backs up such a claim.
A Seoul court on Sunday issued an arrest warrant for Yoo, ruling that he posed a risk of flight and could destroy evidence. In addition to once refusing to the prosecution's request for summoning, Yoo's concealment attempts such as overturning statements about his smartphone played a major role in determining his arrest.
Yoo was accused of destroying evidence by claiming that he threw his phone prior to the search and seizure, but he has reportedly reversed his statement. "After being arrested, he had claimed that he had thrown the phone out the window the day before the search and seizure. However, he later said he left it to a cell phone vendor but didn't say who the vendor was," said the Seoul Central District Prosecutors' Office.
"After checking the closed-circuit television (CCTV) near his residence, we have found that no window was open neither before nor after the search and seizure," the prosecution said.
"Given the circumstances that have been revealed so far, Yoo is deeply involved in the scandal. The investigation into him is expected to play an important role in expanding the investigation into political and legal figures," a lawyer in Seocho-dong said. "In the end, finding the phone will be the most important thing."