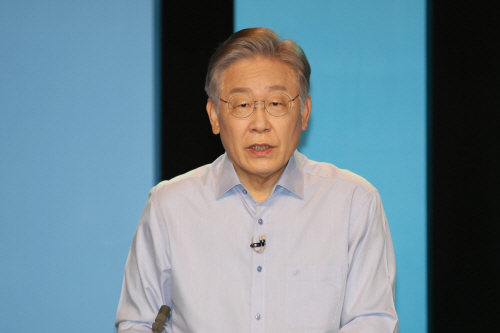 Gyeonggi Province Governor Lee Jae-myung, the leading presidential contender of the liberal ruling Democratic Party, speaks during a televised debate hosted by MBC in Gwangju on Sept. 19, 2021./ Source: Yonhap
AsiaToday reporter Kim Hyun-goo
Prosecutors are verifying authenticity of recordings of conversations involving Kim Man-bae, the largest shareholder of asset management firm Hwacheon Daeyu, and Yoo Dong-gyu, former acting president of the Seongnam Development Corporation.
While many from in and out of the legal circle believe that the recordings could turn into a smoking gun to carry out the initial investigation, attention is now focused on whether the prosecution could clarify the relationship between Hwacheon Daeyu and Seongnam, and whether or not Gyeonggi Governor Lee Jae-myung was involved.
According to the legal community on Thursday, the prosecution is analyzing some photos and recordings submitted Monday by Jeong Young-hak, an accountant and the owner of Cheonghwa Dongin No. 5. The files submitted by Jeong reportedly includes discussions between Kim and Yoo on the distribution of profits, and circumstances in which about 1 billion won was handed over to an official of Seongnam Development Corporation.
The Seoul Central District Prosecutors' Office's investigation team dedicated to probing suspicions of preferential treatment in the Daejang-dong project on Wednesday raided more than 10 locations, including Hwacheon Daeyu and Seongnam Development Corporation's offices. The investigative team is focusing on analyzing the confiscated items and verifying the authenticity of the recorded files and the photos provided by Jeong.
Hwacheon Daeyu is a company formed by Kim by investing 50 million won just a week before the announcement of the Daejang-dong development project. Seven officials from Hwacheon Daeyu and Cheonhwa Dongin are suspected to investing 350 million won and gaining more than 400 billion won in dividends.
The investigation team is reportedly looking into why the consortium joined by Hwacheon Daeyu was selected as a private operator for the Daejang-dong development project, and whether Lee Jae-myung, by then the mayor of Seongnam, intervened in the process and gave preferential treatment to Hwacheon Daeyu.
Many in the legal circles believe that the data provided by Jeong is reliable.
"In light of the recent circumstances, Yoo and Jeong seem to be accomplices in designing the development project together. However, considering the fact that Yoo was unaware of Jeong's report before the search and seizure, it seems likely that there was an internal conflict between them," a prosecutor-turned-lawyer said. "Jeong apparently recorded the conversation in preparation for the possibility that he might be accused of being the main culprit due to his position, and reported it amid growing controversy."
Meanwhile, Prosecutor General Kim Oh-soo, who played a decisive role in forming a large investigation team, emphasized that the prosecution would carry out a speedy investigation on the case.