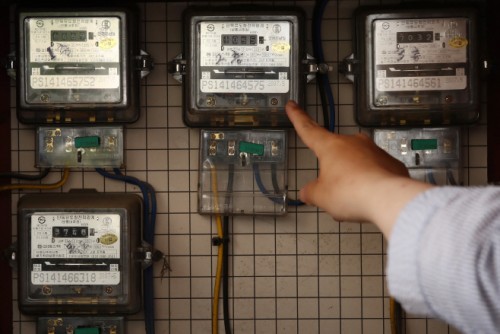 State-run utility Korea Electric Power Corp. (KEPCO) will decide Thursday whether to raise electricity bills for the fourth quarter. According to the nation's fuel cost index system, the power bills in the fourth quarter will reflect changes of fuel prices in the June-August period./ Source: Yonhap
AsiaToday reporter Kwon Han-il
The government and state-run utility Korea Electric Power Corp. (KEPCO) will decide Thursday whether to raise electricity bills for the fourth quarter. A price hike seems likely, considering the recent rise in power generation fuel costs and KEPCO's deficit amid inflation concerns. If power bills rise, it will be the first increase in nearly 8 years since November 2013.
According to industry sources on Wednesday, the government and KEPCO will announce power bills for the fourth quarter, which will be applied from October, on the KEPCO's official website on Thursday morning. Since starting of this year, KEPCO has introduced the fuel cost index system, which reflects the fuel cost required for electricity production in three-month increments. In the previous first quarter, KEPCO lowered power rate by 3 won per kilowatt-hour from that of the previous month in reflection of decline in international oil prices. In the second and third quarters, it froze power bills due to ongoing COVID-19 setback and public burden despite fuel price hikes.
While some have pointed out that the fuel cost index system is not effective, many predict that an increase in electricity bills in the fourth quarter is inevitable, considering the rising fuel cost for power generation and the rising KEPCO deficit. The nation's electricity bills in the fourth quarter is based on fuel prices in the June-August period. The price of coal and liquefied natural gas (LNG), one of main fuel for producing electricity, as well as international oil prices increased significantly during this period.
In fact, the price of coking coal has risen steeply, from $100 per ton in May to $175 per ton in August. The price of Dubai crude oil has been maintaining its $70 per ton level since June from around $60 per ton earlier this year. KEPCO suffered an operating loss of more than 700 billion won ($598 million) in the second quarter, as it failed to raise electricity bills while fuel and electricity purchase costs increased by 1.28 trillion won or 8.1 percent compared to the same period last year due to high oil prices.
However, there are growing concerns about inflation, as consumer price inflation rate has maintained at 2 percent level for five consecutive months. Therefore, many predict that the adjustment will not be large even if the government decides to raise electricity bills.
"We submitted figures and statistics on the fuel cost index system to the government, and the final decision on whether to raise the price is up to the government," a KEPCO official said.
Meanwhile, the rate can go up or down by 3 won per kilowatt-hour from the of the previous month.