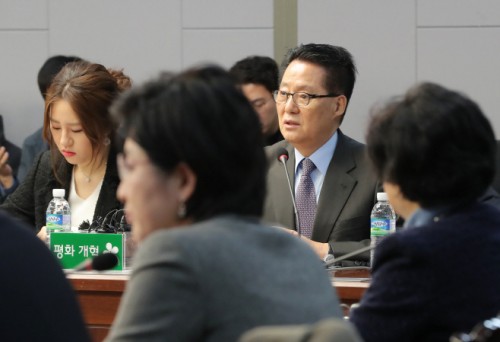 Park Ji-won, chief of the National Intelligence Service (NIS) and then head of the minor opposition People's Party, and Cho Sung-eun, a former deputy chief of the election committee of the United Future Party (UFP) at the National Assembly in Seoul in January 2018.
AsiaToday reporter Lee Wook-jae
The controversy over the ruling Democratic Party's (DP) allegation that former Prosecutor General Yoon Seok-youl, a presidential candidate of the main opposition People Power Party (PPP) and a frontrunner in polls for the presidential election, was behind the PPP's filing of a criminal complaint against figures close to President Moon Jae-in, is now moving to speculation involving National Intelligence Service (NIS) head Park Ji-won, who is accused of conspiring with a whistleblower to derail the presidential candidacy of Yoon.
As the ruling party accused Yoon for intervention in the general election, the PPP began to fight back describing the situation as "Park Ji-won gate," accusing the NIS chief of political maneuvering to take down the leading opposition presidential candidate. The two parties are fiercely attacking each other for maliciously taking the political offensive.
The PPP claimed Monday that the NIS head is behind the scandal, claiming that whistleblower Cho Sung-eun downloaded nearly 110 files including captured images of Telegram messages with PPP lawmaker Kim Woong and an image of final indictment on August 10, a day before her meeting with Park.
"Cho met with NIS head Park Ji-won a day after she downloaded the files, and downloaded some more the day after her meeting with Park," said Kim Jae-won, chief of the main opposition party's special body to verify its candidates for upcoming presidential election, said during a radio show. "Cho claims that she did not talk about it when she met with Park. Did the two meet to play arm wrestling?" Kim said. Cho had met with Park at Lotte Hotel in Seoul on August 11, three weeks before her account started to appear in the media.
"It shows that the NIS chief was meddling in the presidential election," Kim said. "What kind of political meddling is worse than this? The NIS head showing opposition to a specific politician itself is political meddling."
The former Prosecutor General's side also stressed that Park was behind the whistleblowing scandal. "There was plenty of time before her meeting with Park, but why she did she have to capture image that day?" said spokesperson Kim Byung-min. "For the sake of fairness, a compulsory investigation against NIS chief Park needs to be carried out," the spokesperson said. "If she had printed the downloaded file or showed it to Park via her mobile phone, it would be a serious problem," said Lee Sang-il, head of communications for Yoon's camp.