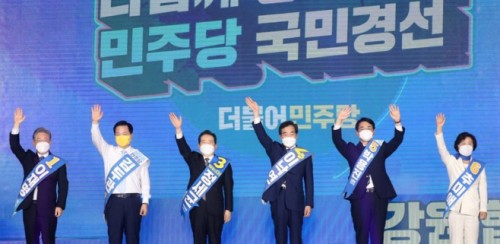 Candidates pose during the joint speech session of the Democratic Party in Gangwon region held at Oak Valley Resort in Wonju, Gangwon Province, on September 12, 2021. From left are Gyeonggi Province Governor Lee Jae-myung, Rep. Kim Du-kwan, former Prime Minister Chung Sye-kyun, former DP Chairman Lee Nak-yon, Rep. Park Yong-jin, and former Justice Minister Choo Mi-ae./ Source: Yonhap News
AsiaToday reporter Jeong Geum-min
Gyeonggi Province Governor Lee Jae-myung won two sweeping electoral victories in the ruling Democratic Party (DP)'s primary votes to pick its presidential candidate, consolidating lead in the party. The governor has secured 51.4 percent of votes in the first super week, one of the party's three rounds of electoral college votes, according to the result released at Oak Valley Resort in Wonju, Gangwon Province, on Sunday. About 280,000 out of some 550,000 electoral votes have been cast for the Gyeonggi governor. If Gov. Lee proves his competitiveness in the upcoming Honam and capital-region primaries, he is likely to win a ticket to the final race without an additional run-off vote.
In a speech during his Gangwon region tour, Gov. Lee said, "Competitiveness in the finals is the most important in the primary. I am the candidate with overwhelming competitiveness in all regions, age groups and camps."
"Lee Jae-myung is the only winning card. By focusing my campaign on policy without negative campaigning against other primary competitors, I will defend the 'one team spirit' and unite as an election countermeasure committee to create a fourth democratic government," Gov. Lee said. "I will show you clearly that the president is not a position that rules over the people, but who works for the people."
"Only an honest and competent president, and a courageous president who keeps his promise to the people with a clear spirit of reform and does what he has to do can overcome the current difficult situation and create a new and more promising country," he added.
However, what is disappointing is that Gov. Lee earned 51.12 percent in Daegu and North Gyeongsang region, which is slightly lower than that of the Chungcheong region with 54.72 percent. The regional competition in Gyeongsang region, which includes the governor's hometown of Andong in North Gyeongsang, was a major battlefield to widen the gap with other runners.
Another variable is the fact that ex-DP Chairman Rep. Lee Nak-yon, who has strong foothold in Honam, burned his bridges behind him by announcing that he will abandon his National Assembly seat. If Rep. Lee succeeds in overturning the Honam primary, he may be in a favorable position in the remaining capital-region primary.
The remaining primary votes will be held in Gwangju and South Jeolla on Sept. 25, North Jeolla on Sept. 26, Jeju on Oct. 1, Busan, Ulsan and South Gyeongsang on Oct. 2, and Incheon on Oct. 3. Voting of delegates and members of the party will be held in regional round primaries. In the Incheon regional primary, the results of the second super week, including the votes of members of the general party and the National Electoral College, will be released.
Then, the primary votes will be held in Gyeonggi region on Oct. 9 and the Seoul region on Oct. 10. The results of the third super week will be announced at the Seoul regional primary.