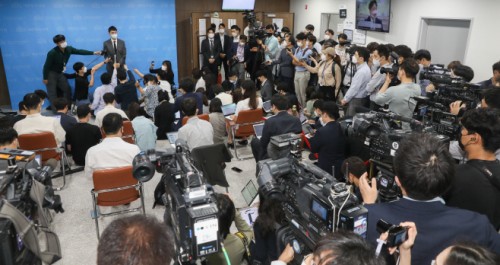 Main opposition People Power Party (PPP) Rep. Kim Woong speaks to reporters after holding a press conference at the National Assembly in Seoul on Sept. 8, 2021, over allegations that by-then chief prosecutor Yoon Seok-youl requested the party file complaints against pro-government figures ahead of the parliamentary elections last year./ Source: National Assembly Pool photo
AsiaToday reporter Jo Jae-hak
A political meddling scandal allegedly involving ex-Prosecutor General Yoon Seok-youl, a leading opposition presidential contender, has emerged as a hot-button issue as Kim Woong, a lawmaker of the main opposition People Power Party (PPP) who is linked to the scandal, failed to properly resolve allegations. Kim has denied all allegations against him at a press conference held on Wednesday, saying he does not remember to key issues.
Kim is suspected of having received letters of official complaints against politicians and journalists linked to the ruling Democratic Party from Son Jun-sung, a senior prosecutor at the Supreme Prosecutors' Office and close aide to Yoon, to deliver them to the United Future Party, a predecessor of the PPP, just ahead of last year's general elections, when he was a candidate for Songpa-gap.
The captured images revealed by some media reports show Kim receiving complaint files through Telegram from Son.
In the press conference, Kim said he does not remember if he received the complaint forms from the prosecution and there is no way to confirm it. He said he threw away the phone he was using at the time and explained, "I change my phone regularly because so many things come and go as I became a politician."
Kim made an ambiguous and indirect denial, saying he might have delivered the files if the images are real. When asked if he received the files from Son, he said, "I don't remember," and added, "Whenever we receive a report on any document, we have to check whether it is in the public interest, so we passed it on to the party."
Kim denied that he has a close relationship with prosecutor Son, who was Kim's colleague at the Judicial Research and Training Institute, but admitted that he exchanged text messages with Son ahead of last year's general elections.
"I don't see Son in person," Kim said. "I sent him an encouraging text message to take good care of the chief prosecutor, who was in a lonely situation."
When asked Kim how he saved Son's phone number on his phone, he answered, "His phone number is not saved on my phone now. I don't remember how his phone number was saved on my phone by then."
As suspicions are growing, there are many voices within the main opposition party calling for a fact-finding investigation. "This is no longer a matter of candidate Yoon Seok-youl or Rep. Kim Woong, but a matter of regime change and the survival of the party," former Jeju Governor Won Hee-ryong said on his social media.